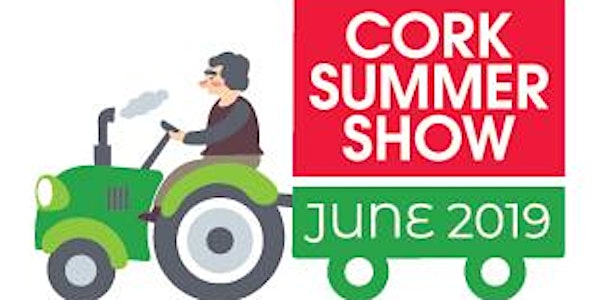 Cork Summer Show 2019
When and where
Location
Curraheen Village Bishopstown Cork Ireland
Description
Enjoy a great family day out!
The Cork Summer Show is organised by the Munster Agricultural Society and is Cork's oldest agricultural, food and community event and takes place on 15-16 June in Curraheen Village, Bishopstown, Cork.
The Show will provide visitors with an exciting range of experiences over 10 interlinked zones, including the Agricultural show, Home & Garden show, Food and Drink Fest, Livestock Show, Equine Show, Dog Show, Vintage Rally, Retail Zone, Kids Zone and Entertainment Zone.
The Show is open to the public between 9-6pm on both days.
Tickets can also be purchased at the gate on arrival at the Show.

Remember to print your tickets to gain entry to the event.
Please note a press photographer will be on site for both days of the show and will be taking photographs. If you do not wish to be photographed please make yourself known to a member of the Cork Summer Show staff.

A member of our team is always on hand to answer any queries you may have. Please feel free to contact info@corksummershow.com to request a call back.
We look forward to you joining us for our special event!
Terms and Conditions
1. This ticket is not refundable.
2. This ticket cannot be exchanged, transferred, or resold for commercial gain.
3. Visitors will not be allowed admission to this Show without a valid ticket.
4. For the safety of visitors to the Show, the Organisers reserve the right to refuse admission, and may, on occasions conduct security searches.
5. Please check all your tickets on purchase, as mistakes cannot always be rectified.
6. The Organisers reserve the right to alter or vary the content or timing of the whole or any part of the Show due to circumstances beyond our reasonable control without being obliged to refund or exchange tickets.
7. The Organisers cannot accept financial or other responsibility for any loss or liability incurred by visitors to the Show as a result of contracts entered into by visitors with any exhibitor or advice sought or obtained from any exhibitor.
8. The Organisers cannot accept responsibility for any loss or damage to personal property brought to the Show.
9. Visitors may be filmed or recorded for broadcast or security purposes during the Show.
10. The sale of any articles in the gangways or anywhere on the Exhibition premises is strictly forbidden except with the written permission of the Organisers, and the Organisers reserves the right at their absolute discretion to confiscate any such articles for infringement of the condition.
11. If you have any queries regarding your Advance Ticket order, please email info@corksummershow.com