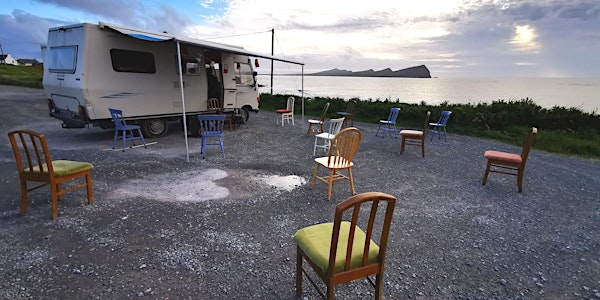 Cormac Begley: Secret Outdoor Concert: Saturday @8.30pm *LIMITED SEATING*
Cormac Begley: Secret Outdoor Concert along the Dingle Peninsula *LIMITED SEATING*
When and where
Location
Dingle Dingle Dingle Ireland
Refund Policy
Contact the organiser to request a refund.
About this event
Cormac will be playing a solo concert in west-Kerry this coming weekend. Limited seats are available. Each concert will be held in a radius of 15km of Dingle town and on the day of each concert, ticket holders will be notified of Beauty's secret location.
***Due to Covid, concerts goers are asked to bring their OWN SEATS or BLANKETS to lay down on.
If you would like to sign up to be the first to hear about concerts held in your locality please fill out the short contact form on www.cormacbegley.com/beauty
I hope to see you along the way!
Cormac Begley a solo bass, baritone, treble and piccolo concertina player from a West-Kerry musical family. His debut solo album received critical acclaim accumulating nine 5-star reviews and his playing has been described as 'a masterclass in timeless musicianship' by the Irish Times (*****). He was nominated for 'Instrumentalist of the Year' for RTE1 Folk Awards in 2018 and 2019 and his solo album was shortlisted for the Irish Times album of the year. He plays in a number of projects including: duets including Liam O Connor (fiddle), Caoimhín O Raghallaigh (hardanger d'amore) and Liam Ó Maonlaí (singer and multi-instrumentalist), Rushad Eggleston (cello) and with singer/songwriters Lisa O Neil and Ye Vagabonds. He is the founder of Airt, a residential school in West-Kerry, and the award winning Tunes in the Church live concert series in Galway and Dublin, and a new outdoor concert series from his campervan, the 'Beauty'.
Album reviews
5 Star Review ***** (Irish Times) - 'An earthy delight'..... 'The record's limited-edition hexagonal case is a masterclass in form and function.'
5 Star Review ***** (Folking.com) - 'This is a superb solo artiste with feeling, amazing timings, drama, humour and obvious dedication to his craft.'
5 Star Review ***** (Folk Wales Online Magazine) - '....an utterly delightful album'
Music streaming: https://cormacbegley.bandcamp.com/
Facebook: https://www.facebook.com/cormacbegley/
Instagram: https://www.instagram.com/cormac_begley_/
Twitter: https://twitter.com/cormacbegley