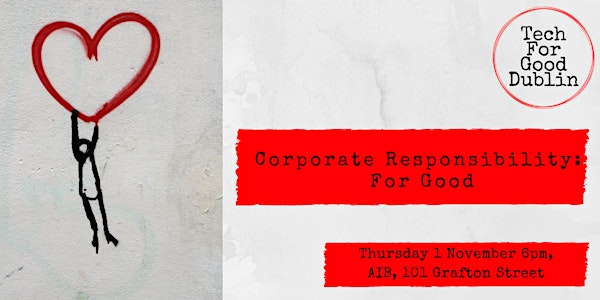 Corporate Responsibility for Good
When and where
Location
AIB Bank (upstairs) 101 Grafton Street Dublin 2 Ireland
Description
Have you ever wondered how Corporate Social Responsibility (CSR) works in Ireland today and what big tech companies are doing? Are you interested in the role of community projects, or how the Sustainable Development Goals (SDGs) are changing the face of CSR? Tech for Good Dublin has gathered together experts in the field to share their own thoughts (good and bad), and their visions for the future of what CSR could potentially become.
Join us on 1st November in AIB Grafton Street for this free event which promises to be both fun and fascinating.
What you will get:
Free tea and coffee and donuts on arrival. 3 very interesting short talks. A discussion on the topic of 'What could Corporate Responsibility achieve in the future?' Tech for Good Dublin badges for the first 3 questions asked. Opportunity to network at start and end of event. Member Announcements (at end)– if you have something to say, tell the room !
Our Speakers:
We are delighted to welcome 3 speakers from contrasting backgrounds to this event and look forward to an interesting discussion following their talks. Our first speaker is Tomás Sercovich, the CEO of Business In the Community Ireland who are experts in Corporate Social Responsibility and coordinate Ireland's Network for Responsible Business which comprises over 90 of Ireland's well-known brands. Tomás will set the scene on what CSR is understood as today and showcase examples of how companies are supporting responsible and sustainable business involving tech. Our second speaker, Sinead Gibney, spent 5 years as the Head of Social Action at Google and has fascinating insight into what tech companies can do to help citizens and communities. She has a wealth of knowledge and interesting viewpoints - which may surprise some of our audience. Our last speaker is Niamh McKenna, Head of Impact at ChangeX who engage companies to support community projects like Men's Sheds and CoderDojo. Niamh will share her experience and talk about an ambitious goal recently announced by ChangeX to activate 20 million local community projects around the world, impacting one billion people by 2030.
Find out more about our 3 Speakers on LinkedIn:
Tomás Sercovich: CEO of Business in the Community Ireland
https://www.linkedin.com/in/tom%C3%A1s-sercovich-176bb19/
Sinéad Gibney: Head of Social Action at Google 2009 - 2014
https://www.linkedin.com/in/gibney/
Niamh McKenna: Co-Founder and Head of Impact at ChangeX
https://www.linkedin.com/in/niamh-mckenna-30664641/