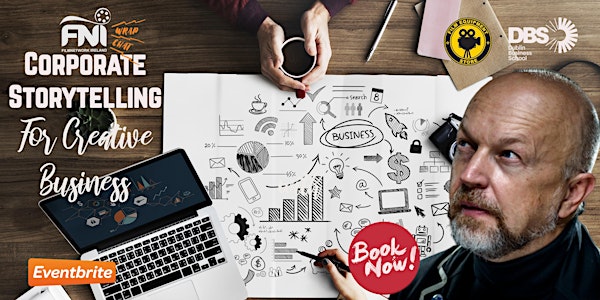 Corporate Storytelling for Creative Business
How do i make the most of my Business opportunities
When and where
Location
Dublin Business School Balfe Street 5 Balfe Street D02 Y622 Dublin 2 Ireland
Refund Policy
Contact the organiser to request a refund.
About this event
When are employees most productive?
When they consider what they do meaningful. There is always a story behind meaning. Corporate storytelling is about finding that story and how best to tell it. As a corporation or creative business of all levels, you share a story that assigns a meaningful role to everyone: staff, management, stakeholders, and of course, customers. It makes you see the big picture and your personal contribution to the greater good of society. Communication is the key to success in Business. How you communicate your message and how you communicate your message to your employees.
Here's one of the most important secrets behind successful storytelling for a company (the way the great Hollywood directors would have done it): stories people believe in always appear to have grown bottom-up. A professional storyteller knows how to induce that process of upward growth. It is a controlled organic process that allows everyone to contribute. Thus social posture and role assignment fall naturally into place. But beware! It won't work without the utmost commitment by the head of the company. After all, it still you, who wants to lead the way.
Ip Wischin, one of the masterminds behind the latest business consulting brands - Vienna's "Wirtschaftsdramaturgie" - shares his knowledge with you. Ip Wischin has so far consulted with companies like Daimler-Benz, Bosch, Allianz - to name a few, where he used his storytelling techniques to overcome problems as change resistance, digitisation fatigue, micromanagement, diversity problems, low acceptance of company policies, etc. all in all a lack of productivity due to a false narrative.
Ip Wischin has done a series of lectures on film dramaturgy in Dublin before; now, for the first time, he gives one of his renowned lectures on his special field of corporate storytelling. Ip has given classes all over Europe and was invited to speak at TED Vienna recently.
Who is this lecture for?
Whether you are involved in small, medium or big business, whether you are in management, HR, CorpCom, and especially if you are using visual media and videos as a creator and you want to expand your business model to become a media consultant: this is exactly the type of seminar for you. THINK OUTSIDE THE BOX.
Analyse and focus on the problems at hand. Use modern media to turn your staff into the protagonists of a shared story and watch them go the extra mile and you will see the results. Invest in your story, invest in your employees potential and empower your company.