About this Event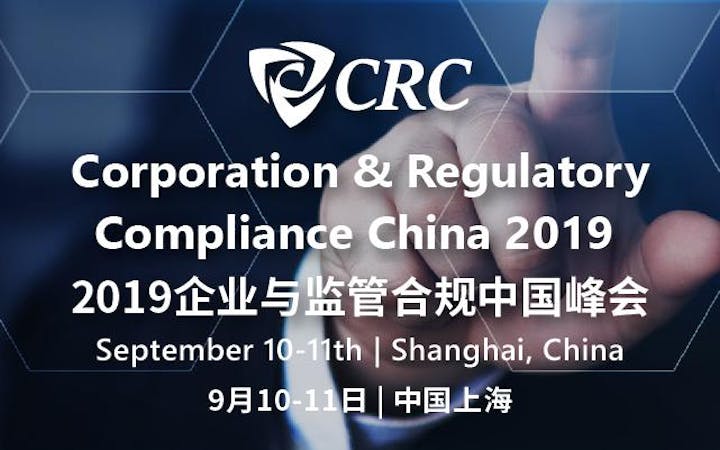 2018 is an extraordinary year in the history of China's economic development like the Slowing economic growth, China-US trade war, etc. Along with those, there are series of major events which companies are experiencing legal risks. It's not uncommon to see companies are punished due to the company compliance problem. So many domestic and international cases have alarmed us that companies must pay attention to its own compliance system. It can be said that compliance development is the source of power and fundamental guarantee for foreign enterprises to sustain and develop in Chinese market.
Corporation & Regulatory Compliance China 2019 is the most influential company compliance forum in Asia held by Shanghai SZ&W Group. More than 150 industry veterans and corporate compliance department heads as well as more than 80 well-known related corporations and associations will be invited to share the latest legal and policy interpretation, corporate compliance system, data security, regulation technology and budget control, third-party cooperation management and KYC solutions. Forum aims to provide practical, innovative and comprehensive corporate compliance solutions for all attendees, so that all the participating companies can handle themselves in the new compliance era.
Agenda Overview
Day One Sep. 10th
Session1: Domestic Policies and Trends Interpretation
Session 2:Oversea Legal and Policy Interpretation
Session 3:Case Study: Chinese Companies Operate Oversea
Session 4:Case Study: Foreign Companies Operate Domestically
Day Two Sep. 11th
Stream 1 Anti-Corruption & Enterprise Compliance
Session 5:Internal Compliance Management System
Session 6:Crisis Management and Risk Management
Session 7:Third Party Management
Stream 2 Data Compliance & Regtech
Session 8:Cross-Border Data Transfers
Session 9:New Technology & Tools for Analytics and Surveillance
Session 10:RegTech and Legaltech Case Study
Session 11:Third Party Management& KYC Solutions
Session 12:Leveraging Regtech for Compliance Management
Highlights
Authoritative interpretation of The Chinese Government's "Foreign Investment Law", "Law Countering Unfair Competition" and" Cyber security Law"
Authoritative Discussion of Global Anti-Bribery, FCPA and GDPR Latest Case Study
The impact of China-US trade war on corporate compliance
One Belt and One Road: Analysis of Cross-border Business Compliance Cases in the EnvironmentOf China-US Trade Friction
"Bring In": foreign companies in China
Difficulties and implementation in the construction of an intercultural compliance system
What are the "must-have" soft skills for legal and compliance officers?
Establish an internal corporate compliance management system
Data security, cross-border transport, data compliance solutions
Compliance technology, is your corporate compliance technology out of date?
Third-Party Due Diligence, the most profitable solutions
Benchmarking: A large number of cases help you say goodbye to the "perfunctory" compliance