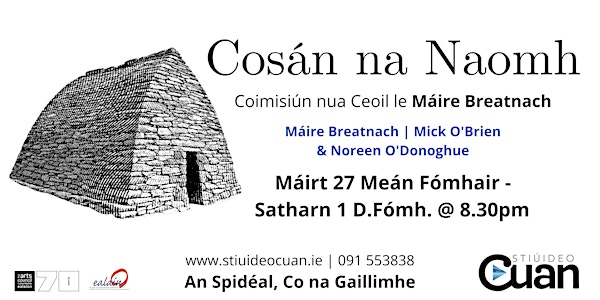 Cosán na Naomh
Saothar úrnua ceoil leis an gceoltóir agus cumadóir iomráiteach Máire Breatnach, á léiriú ag Stiúideo Cuan sa Spidéal, Co na Gaillimhe.
When and where
Location
Stiúideo Cuan Páirc na Meán H91 FT67 An Spidéal Ireland
Refund Policy
Contact the organiser to request a refund.
About this event
Tá ríméad ar Stiúideo Cuan a fhógairt go mbeidh Cosán na Naomh, saothar úrnua leis an gceoltóir agus cumadóir iomráiteach Máire Breatnach, á léiriú inár n-ionad nua ealaíne & ceoil sa Spidéal ón 27 Meán Fómhair go dtí an 1 Deireadh Fómhair 2022 ag 8.30pm gach oíche.
Is saothar nua ceoil agus filíochta é Cosán na Naomh a thabharfas léargas uathúil ar leithinis Chorca Dhuibhne agus stair ársa an cheantair gaeltachta seo. Ceol nua ar fad a bheas anseo, cumtha ag Máire Breatnach, agus curtha i láthair ag scoth na gceoltóirí, ina measc: Máire Breatnach (veidhlín & viola) Mick O'Brien (píb uilleann & feadóga) agus Noreen O'Donoghue (cláirseach) le dearadh fuaime ó Stephen O'Brien.
Tá an saothar nua seo bunaithe ar Chosán na Naomh i nGaeltacht Chorca Dhuibhne. Is ó Thrá Fionntrá, de réir traidisiúin a ghabhann siar breis is míle bliain, a thugadh lucht oilithreachta aghaidh ar Chnoc Bréanainn ar an gcosán ársa seo. Sa tseanlitríocht, is ag an trá seo a tharla an comhrac miotasach, ar a dtugtar Cath Fionntrá, inar sháraigh laoch mór na bhFiann in Éirinn, Fionn Mac Cumhaill 'Impire an Domhain go léir seachas Éire', Dáire Donn.
Tabharfaidh an coimisiún nua ceoil seo an lucht éisteachta ar an turas ársa seo agus Máire Breatnach ag freagairt don dúiche ina timpeall agus an tionchur cruthaitheach atá ag tírdhreach sceirdiúil Chorca Dhuibhne ar an ealaíontóir clúiteach seo.
Gné lárnach de pholasaí ealaíne Stiúideo Cuan, ná go mbeadh ar a laghad ealaíontóir amháin seasta faoi choimisiún againn. B'é Johnny Óg Connolly a bhí faoi choimisiún anuraidh. Beidh muid ag fógairt an té a bheas faoi choimisiún do 2023 ag oíche oscailte Chosán na Naomh ar an Mháirt 27 Meán Fómhair ach idir an dá linn, tá ríméad orainn go mbeidh an saothar nua seo le Máire Breatnach á cur faoi bhráid an phobail don chéad uair an Fómhar seo anseo i Stiúideo Cuan.
Tá Cosán na Naomh á léiriú ag Darach Mac Con Iomaire, stiúrthóir agus léiritheoir a bhfuil aitheantas náisiúnta agus idirnáisiúnta bainte amach aige as ucht caighdeán agus cruthaitheacht a chuid oibre.
Tá Stiúideo Cuan ag cur an togra seo i láthair i gcomhar leis An Chomhairle Ealaíon & Ealaín na Gaeltachta.