Location
Trinity Biomedical Sciences Institute
152 - 160 Pearse Street
Dublin 2
Ireland
Ireland's Pandemic - Past and Future https://tcd-ie.zoom.us/j/94205161792?pwd=M1gyUXZkWkNPV2d4N0F5aFhWZXpnQT09
About this event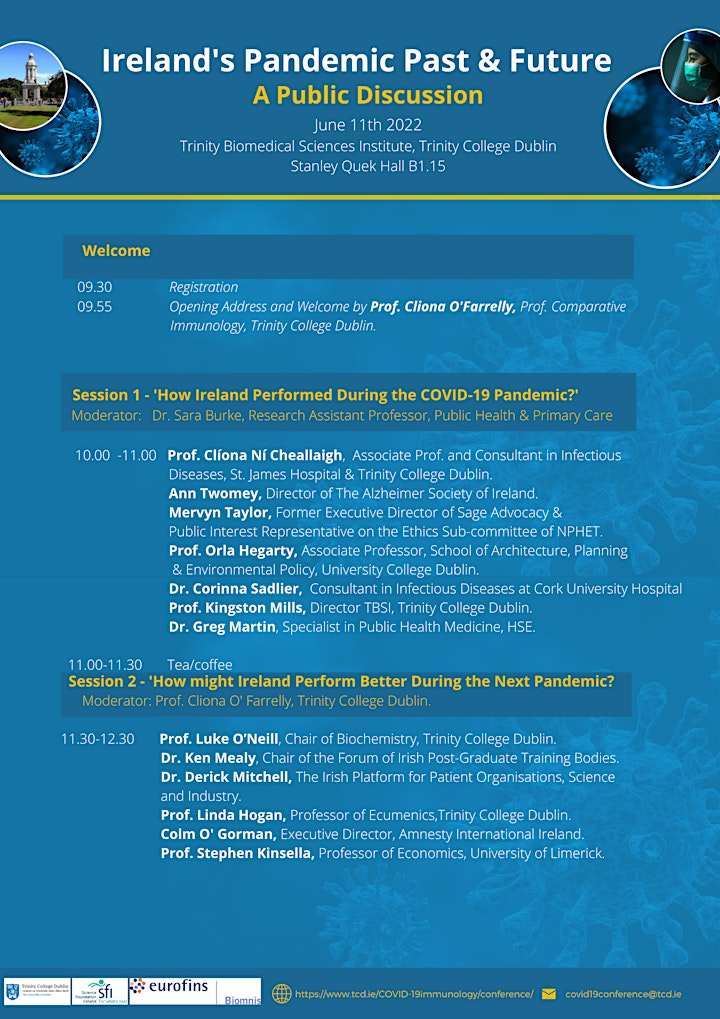 This event will be open to the General Public and will consist of two panel discussions which will explore the following themes: 'How Ireland performed during the pandemic?' and 'How might Ireland perform better during the next pandemic?'. The aim of this event is to highlight what was achieved in Ireland during the pandemic, to identify significant gaps in those achievements, and to develop a plan around how Ireland might be better prepared for future pandemics.
Please click the link below to join the webinar:
https://tcd-ie.zoom.us/j/94205161792?pwd=M1gyUXZkWkNPV2d4N0F5aFhWZXpnQT09

In partnership with Eurofins Biomnis.
Eurofins Biomnis is the leading independent provider of medical laboratory testing services in Ireland. We are proud to offer our clients a pathology service which uses the most sophisticated diagnostic equipment and techniques in all fields of pathology, including a dedicated pathology transport service, expert medical pathologist support and novel IT connectivity solutions to meet all of your pathology demands. https://www.eurofins.ie/biomnis/