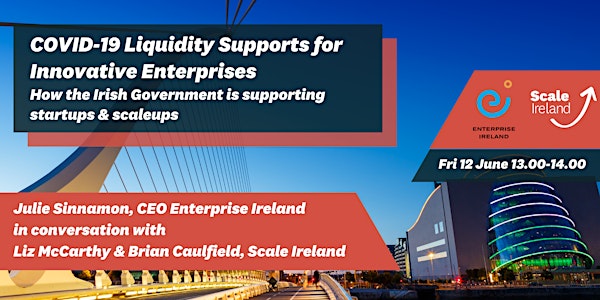 COVID-19 Liquidity Supports for Innovative Irish Enterprises
A conversation with Julie Sinnamon, CEO of Enterprise Ireland to discuss emergency COVID-19 schemes for Irish startups & scaleups.
About this event
*Additional tickets released due to high demand*
Julie Sinnamon, CEO of Enterprise Ireland joins Liz McCarthy, CEO and Brian Caulfield, Chairperson at Scale Ireland to discuss how the Irish Government's emergency COVID-19 schemes are supporting innovative startups and scale-ups.
COVID-19 poses an unprecedented challenge for Ireland's startup community. Without targeted liquidity assistance, Scale Ireland's research found that up to 80pc of Ireland's most innovative startups could run out of cash by the end of the year.
This webinar will cover a number of topics focusing on liquidity supports, including:
Available supports: The COVID-19 liquidity supports available for innovation-driven companies of all sizes.
Accessing COVID-19 supports: How they work and what you need to have in place; effectively navigating the application process; how to effectively engage with the agencies.
Take-up to date: Information on the level of take-up and funding for state supports.
Background to the schemes: Insight into some of the constraints in delivering funding support including State Aid rules, rationale for application requirements.
Questions from the startup community: Opportunity for Julie to answer questions from founders.
Who should attend?
This webinar is open to "innovation-driven" companies of all sizes, from startups to scale-ups. This event is free but you have to register to receive the webinar link.
Do you have any question(s) you'd like us to pose to Julie Sinnamon (Enterprise Ireland) about liquidity supports during our webinar?
We'll be fielding questions via the Q&A function on Zoom.