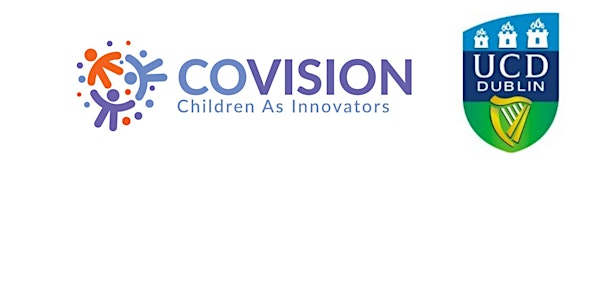 COVISION Project Showcase Event
Amplifying children's voices, creativity, and resilience during COVID-19- this event will showcase COVISION's outputs and impact.
When and where
Location
University College Dublin George Moore Auditorium, O'Brien Centre for Science Stillorgan Rd Roebuck Belfield Ireland
About this event

"Children as Innovators - harnessing the creative expertise of children to address practical and psychosocial challenges of COVID-19 pandemic" also known as the COVISION Study.
This project is funded by the Health Research Board and the Irish Research Council as part of the second phase of the COVID-19 Rapid response grant in November 2020. This project explored the creative and innovative ways children have been responding to the changes during and after the pandemic, and how their initiatives may help other children, particularly by addressing their sense of safety, calm, hope, self-efficacy, and connectedness.
In this project, researchers specifically focused on the active engagement of children, what we can learn from them and how this can be translated and adapted to other groups within our society on how to deal with the effects of this pandemic. The project is led by Associate Professor Suja Somanadhan from University College Dublin, and we have partners across the globe (Australia, New Zealand, Taiwan, Canada, USA, UK, Brazil, India) as well as in Ireland.
At this showcase event, we will be offering a child and family-friendly public forum with a focus to attract researchers, educators, academics, and policymakers. We will be presenting all the project's output to date, which includes two reviews looking into (i) interventions that have helped children and young people in pandemics to mitigate psychosocial risks, (ii) children and young people and their contributions to building community resilience during the COVID-19 pandemic. We will be presenting results of the creative and innovative ways children and young people (10-17-year-olds) wanted to address the challenges they faced during and after COVID-19 across the globe. Also, children and young people co- designed innovative, creative responses that will support children, families, and communities affected by pandemics in the future.
This showcase event will be attended by the government, policy, and national funder's representative and the COVISION Children Research Advisory Group in Ireland. This showcase event will further be a celebration of Universal Children's Day 2022, held each November.
Lunch and refreshments will be provided.