CPD Accredited Motivational Autism Training Session for Teachers/Assistants
Event Information
Refund Policy
Contact the organizer to request a refund.
Eventbrite's fee is nonrefundable.
Teachers only learn about the negativities surrounding autism - now for something uplifting, motivational, and informative.
About this Event
Even in 2020, training teachers receive on autism is incredibly negative, and taken straight from an era closer to the 1950s. The language, symbolism and "behavioural" interventions that are taught are frowned upon by the autistic community.
This is a motivational session to see the gifts that autism brings, the incredible minds that autistic children have and if nurtured, will bring them confidence and hope.
This is something completely different. This is an inspiring and motivational session, delivered by an autistic person, using research that is led by autistic voices. Most sessions teachers attend is what autism is in the eye of professionals who observe, not from those of us who live with it everyday as part of our identity. This will provide every teacher with a FOOLPROOF strategy to build better relationships with their autistic pupils. This session will benefit teachers in all educational levels as well as nurseries and private day units.
This session will cover;
Jude's own story of growing up as a non-accepting autistic child into a proud autistic adult, covering Jude's primary, secondary and third level education experiences
The negativities surrounding Autism and how we can all work together to remove them
Discussion of teachers struggle with when there are autistic pupils in the classroom
How using the correct terminology and symbols will help your pupils/students build confidence
Breaking Down the Myths of Stimming
What Autistic People ACTUALLY struggle with - not what others THINK we struggle with
How your autistic pupils and students are already wonderful and incredible exactly how they are. Autistic children are not a broken version of normal
"Autistic people have been at the forefront of human endeavor for centuries; Einstein, Newton, Michaelangelo, Mozart, Stanley Kubrick... the list is endless. Without us, the human race would still be living in caves and spearing fish. We are all told we have Autistic Spectrum "disorder", but disordered compared to who?" - Jude Morrow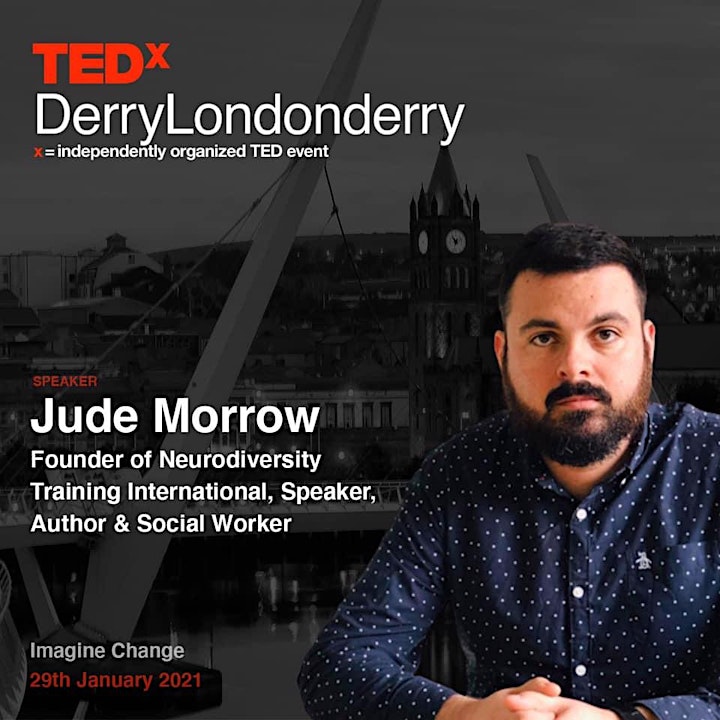 Date and Time
Location
Refund Policy
Contact the organizer to request a refund.
Eventbrite's fee is nonrefundable.