Crafting Memorable Experiences: Smart CX Lessons from Hospitality Industry
Description
This CXPA Ireland event is another fascinating case study and panel discussion, full of insights and take-aways for our community of CX professionals, as part of our quarterly event calendar.


Hostelworld: Crafting Unique and Memorable Experiences

CXPA is proud to have Cathy Thomson, Global Head of Customer Experience with Hostelworld present her CX lessons of crafting unique and memorable experiences. Through data analytics, voice-of-customer insights and innovative tech design, Hostelworld differentiates itself from big competitors by designing unique moments to emotionally connect with customers, while winning loyalty for the brand in the niche online space.

Hostelworld is the world's leading hostel-focused online booking platform with 36,000 properties in more than 170 countries, sparking social experiences with over 10 million customer ratings and its head office is in Dublin. Hostelworld travellers are a unique and passionate breed. Hostel travellers spend more annually on leisure travel than other travellers; they want to see the world, make new connections and crave the adrenaline of new adventures.
Industry Panel Discussion on Crafting Customer Experiences
Cathy will be joined by two of Ireland's hospitality leaders, from iconic Irish brands: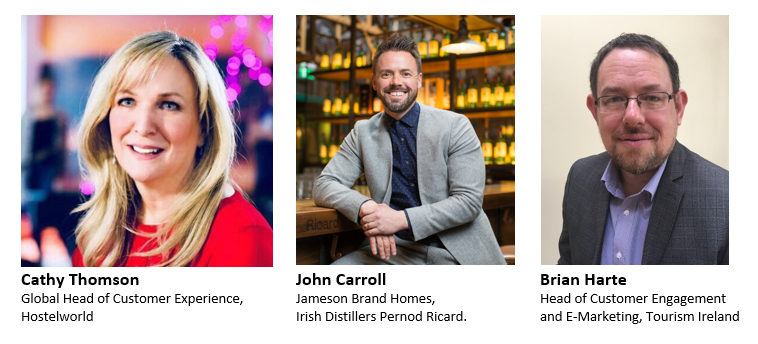 Cathy Thomson, Global Head of Customer Experience, Hostelworld
Cathy is a leader in strategic CX transformation, Voice-of-Customer programs, and data-driven experience design with a background in the hospitality, retail, and ecommerce sectors. She joined Hostelworld in 2012, having previously worked in senior roles with brands such as Fairmont, Marriott, HSBC, Walmart, and Air Canada. She holds an MBA, an Honours Bachelor of Journalism, and is a Recipient of Canadian Achievers Award from the Prime Minister of Canada.
John Carroll, Jameson Brand Homes, Irish Distillers Pernod Ricard
John leads the Marketing & Brand Experiences function for Jameson Distillery Bow St. & Jameson Distillery Midleton – John is an experiential marketer & project management specialist working on variety of projects globally across film, music, arts & culture; driving value and building advocacy. John was Project Director on the new look Jameson Distillery Bow St. Brand Home (recently awarded World's Leading Distillery Tour at the 2018 World Travel Awards), which re-opened in March 2017 following a major €11M investment.
Brian Harte, Head of Customer Engagement and E-Marketing, Tourism Ireland
Brian is Head of Customer Engagement & E-Marketing with Tourism Ireland, the organisation responsible for marketing the Island of Ireland as a holiday destination. Brian is responsible for digital strategy and many of the customer interactions overseas visitors first have with Ireland. The Ireland.com site, email marketing, always-on digital campaigns, community management as well as Martech and data make up his remit.
VENUE DETAILS:
Our event is being kindly hosted at the Bank of Ireland Workbench in Trinity College, Dublin 2.

Address:
Bank of Ireland Trinity College,
College Green, Dublin 2

Registration is from 8:00am, where a representative of CXPA will greet you, followed by refreshments, the main event will start at 8:30am and conclude by 10:00am.
CONTACT DETAILS:
Please join our CXPA Ireland LinkedIn Group at https://www.linkedin.com/groups/8517795
Please join our CXPA Ireland Mailing List to be notified about future events and news at http://eepurl.com/dpSlR5
Email us at cxpaireland@gmail.com
@CXPAIreland
#CXPAIRELAND
Website www.cxpa.org