Creating Our Future presents a Fireside Chat with Emilie Pine, Professor of Modern Drama at UCD and author of Notes to Self.
About this event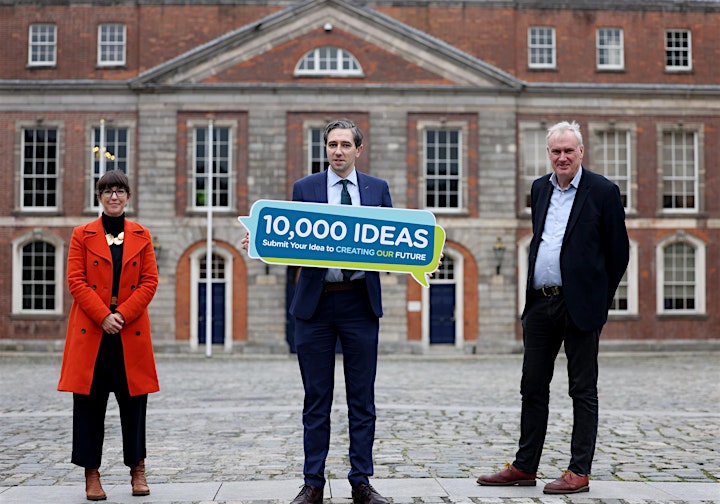 Join host Ruth Freeman, Director of Science for Society, Science Foundation Ireland for an in-depth conversation with Emilie Pine, Professor of Modern Drama at UCD, and author of the no. 1 non-fiction bestseller Notes to Self, about her work, the importance of research for the Arts & Humanities and what will make a better future for Ireland.
The online event, part of the Creating Our Future campaign, will feature a one-on-one-conversation between Emilie and host Ruth, with an interactive brainstorming session.
The webinar is organised by Creating Our Future in partnership with the Royal Irish Academy
ABOUT CREATING OUR FUTURE
Creating Our Future is a is a Government of Ireland campaign to stimulate a national conversation that generates ideas from the public to inform the direction of research in Ireland.
While we might not always think about it, research and innovation affect nearly every part of our lives. Ideas are the starting point for all research and innovation. Anyone, anywhere can have an idea that inspires research and innovation. It could be based on an opportunity or challenge that someone has identified in their own life, for their community, for Ireland or for the world. Or it could be based on a topic that someone is curious or passionate about. Creating Our Future wants to hear them all – whatever facet of life they relate to.
Through online and in-person events like this one, Creating Our Future is speaking to broad and diverse communities across Ireland to capture their ideas to create a better future.
https://creatingourfuture.ie/
Organiser of Creating Our Future: Fireside Chat with Emilie Pine
Science Foundation Ireland is the national foundation for investment in research in the areas of science, technology, engineering, and mathematics (STEM) which promotes and assists the development and competitiveness of industry, enterprise and employment in Ireland. The Foundation also promotes and supports STEM education and engagement, and creates awareness and understanding of the value of STEM to society and to the growth of the economy. See www.sfi.ie.
Science Foundation Ireland's #BelieveInScience campaign aims to promote the potential that science and discovery offer Ireland, today and in tomorrow's world. The #BelieveInScience campaign will see Science Foundation Ireland work in partnership with the Irish research community to share a mutual passion for science with the public; to promote an understanding of the ability of STEM to create positive change in the world and to drive a sustainable economy in Ireland.