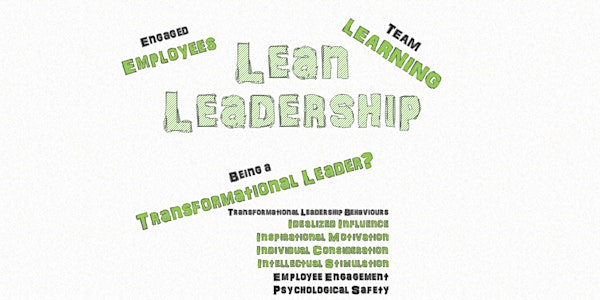 Creating the Lean Mindset - Leadership, Employee Engagement & Team Learning
Location
KingsWood Hotel Citywest
Naas Road
Dublin 22
Ireland
Refund policy
Refunds up to 7 days before event
Description
Lean thinking is transforming the way organisations operate. A new transformative approach requires transformational leaders.
Are you attempting to improve and transform your business? Are you or your leaders prepared to take on the challenge? Do you know why employees need to feel safe? Is your culture supportive of change?
Creating the Lean Mindset - leadership, employee engagement, team learning
With Lean and Change journeys, implementation is a challenge, sustaining change even more so. Getting the culture and climate right is critical to sustaining improvements. To do this we need to create a climate where an innovation culture can flourish. This is a climate where team members all have a Lean Mindset in a Psychologically Safe environment.

This workshop will walk you through the 3 behaviour pillars of this culture, The Leader, The Individual, and the Team. We will show you how it is measured, and how each impacts the other, all based on substantial research undertaken.
In this two-day workshop, we focus on the behaviour change that is required for organisational change. This is not management skills training but a workshop of self-reflection and adoption of new behaviours.
We start with measuring individual leadership behaviours through psychometric testing. We then work with participants to increase knowledge of transformational leadership behaviours. Using coaching techniques, participants are helped to identify their leadership style, strengths and areas for improvement. Day one ends with the development of individual goals related to improving leadership abilities.
Day two is focused on examining the impact of culture on organisational effectiveness. Getting the culture right is critical to sustaining improvements. We explore specific situations that may be causing difficulty and look at ways to increase psychological safety and team engagement. Participants will learn how leadership impacts heavily on the culture of an organisation and recognise ways in which they can shape the culture and climate of the organisation they work in.
WHY CHOOSE THIS PROGRAMME?
Most leadership programmes focus on building knowledge and skills. Our programme focuses strongly on behaviours. It is leadership behaviour that causes others to act and it is leadership behaviour that inspires followers to action. We don't shy away from the uncomfortable, recognising that every leader should have leadership improvement goals. We provide each participant with the opportunity to take home personal and in-depth learning about their strengths and areas for improvement.
Through powerful coaching and psychometric tools, this programme takes participants on a self-reflective journey that develops their growth mindset and starts them on a path for personal leadership improvement.
-----------------------------------------------------------------------
This work is based on Jigsaw's award-winning Lean Mindset research which supports the hypothesis that leadership behaviour and the team climate they create can influence and predict the level of employee engagement. This research and workshop won the inaugural Lean Business Ireland award for contribution to Lean Learning.
The Facilitators
Stuart Nelson, Principal Consultant, Jigsaw Consulting
Stuart is principal consultant with Jigsaw and works with organisations to solve problems and enable them to develop an Organisational Growth Mindset.
Stuart brings over 20 years' experience to the analysis and improvement work he carries out. Using tools from Lean, Six Sigma, and Design Thinking, and techniques such as coaching, mentoring, and training, he is optimally positioned to guide the person and the process through the change cycle.

Recognising the critical role of the cultural and the individual in the Lean improvements, Stuart completed degree studies in Psychology with research into the leader's role in team engagement, learning, and openness to change. The findings of this research have been presented at academic and professional conferences. Stuart holds Black Belts in Lean and Six Sigma along with 3rd level qualifications in Psychology, Innovation, Strategic Management.
Jigsaw Consulting is an award winning service provider with Lean Business Ireland and is an approved to deliver the Lean Business Offer.