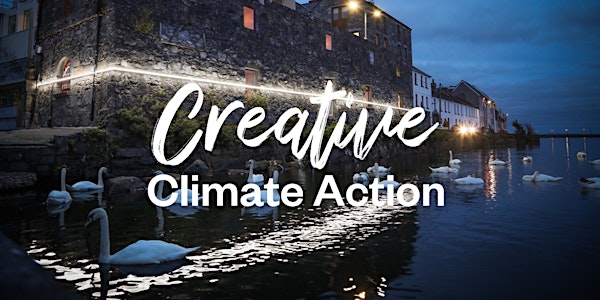 Creative Climate Action Fund II: Agents for Change - Online Briefing
Information session for the Creative Climate Action Fund 2023
About this event
Creative Climate Action Fund II: Agents for Change
The Creative Ireland Programme in collaboration with the Department of the Environment, Climate and Communications (DECC) is delighted to invite applications to Creative Climate Action Fund II: Agents for Change. This is a competitive fund of €3.6 million for creative projects that can connect people with the profound changes that are happening in our environment, society and economy arising from climate change, and can transform that connection into understanding and action.
To provoke this change, we need to think big, think differently and most importantly – think creatively.
Learn More
An online briefing will take place on Monday the 12th of December from 12.00 – 1.15 pm where you can learn more about the fund and ask questions to a panel which will include the funders, project participants funded under Creative Climate Action I, and external advisors, including:
Short presentations will give the background to the fund, information on the types of projects sought and how to apply, examples of successful creative climate projects that have previously been delivered, and some context around public perceptions, awareness and attitudes towards climate change in Ireland, followed by a Q&A.
Anyone interested in applying for the fund is welcome to attend the webinar. A link will be circulated to everyone who has registered in advance. For those who cannot attend, a recording of the webinar will be made available on the the Creative Ireland website and YouTube Channel.
Queries can be submitted by email to creativeireland@tcagsm.gov.ie in advance of the webinar with the subject heading "Creative Climate Action". All questions and responses will be noted and made publicly available on the FAQ page on the application portal.
How to Apply
For further information on the fund and full details on how to apply, please visit https://creativeireland.submit.com/
Closing Date for Applications is 5.00 pm Monday 13th March 2023.