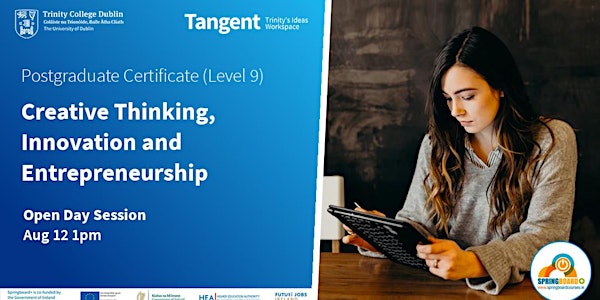 Creative Thinking, Innovation and Entrepreneurship: Online Open Day
Looking to upskill, considering a return to work, or have a business idea? There is no time like the present to consider your future!
About this event
Whether you are an aspiring entrepreneur, looking to upskill or are returning to the workplace, the Postgraduate Certificate in Creative Thinking, Innovation and Entrepreneurship at Tangent offers you the opportunity to acquire a range of problem solving, creative and lateral thinking skills in a hands-on, experiential learning environment. You will explore the changing nature of the workplace and learn how to recognise, generate and communicate opportunities. Ideally suited too to those who have taken a career break, you will develop an entrepreneurial mindset on the course, and subsequently increase your value to potential employers. If you are an emerging entrepreneur, this course will also help you plan a business venture of your own.
During this 45 minute open day session, at 1pm on Thursday 12th August, you will have the chance to hear from Tangent's Student Recruitment Officer Jane Flanagan and Programme Coordinator Vicky McEvoy. We will also be joined by a recent graduate of the course. You will also have the opportunity to ask the Tangent team any questions you may have about the course.
A Level 9 Springboard+ course, it is FREE to eligible candidates. Engaging with real entrepreneurs, business leaders and industry mentors in a dynamic yet informal learning environment, students simulate the 21st century workplace environment by working on real-life innovation Industry projects, designing creative solutions for actual challenges faced by host organisations.
We hope you can join us to learn more about your career potential!
For some immediate information on what the course entails or to express your interest in applying, visit us here: https://www.tcd.ie/tangent/education/...
If you'd like to be contacted by a member of the Tangent team email us at springboard@tcd.ie