Artist Éilís Murphy invites participants to experiment with materials, textures and surfaces in this process-led bookmaking workshop.
About this event
This creative workshop takes place over two 90 minute sessions on:
7pm, Friday 26th March
11am, Saturday 27th March
Booking a ticket will require you to attend both sessions.
Limited capacity - maximum 8 places
Stories Unfolding
A hands-on creative bookmaking session with artist Éilís Murphy.
Participants will be introduced to collage and bookmaking techniques, experimenting with various materials, textures and surfaces in this process-led workshop. Éilís will introduce you to artist's books, looking at the many different formats they encompass. Using experimental drawing and collage exercises, we will explore the book as a sequence of spaces to create handmade storybooks.
The focus should be on spontaneity and play, creating initiative work that gives your thinking mind a rest!
Participants will receive a package of materials in the post before the workshop. These will be used as a starting point for our storybooks.
Some basic tools will be needed: scissors, ruler and pencil
Please note, when booking your place you will be asked to provide an address to which the materials package can be posted too.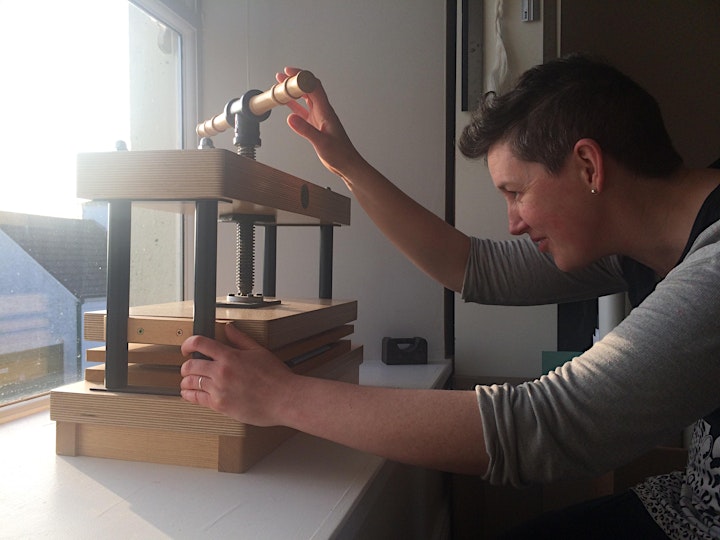 About Éilís Murphy
Based in the Burren, Co. Clare Éilís Murphy is a multidisciplinary artist who uses storytelling to explore the world around her. Her focus on social justice issues means that often her work is in collaboration with other people. She uses the craft of bookbinding as her principal storytelling tool but also uses printing, video and community based interactive events.
In 2020, she was awarded the prestigious RDS Craft Award for her book arts practice Folded Leaf. Folded Leaf is a publishing and bookbinding press set up by Éilís which creates handmade and limited edition books often in collaboration with other creatives. Éilís is interested in visualising the book in a different way, providing an accessible, tactile format that creates an interactive and intimate space for the audience to engage with.