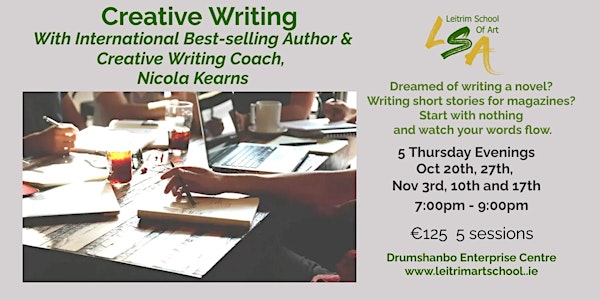 Creative Writing Workshop, 5Thurs Eve's 7pm-9pm Oct 20, 27, Nov 3, 10 & 17
Creative Writing Workshops 5Thursday Evenings starts Oct 20th, Total €125: €30 deposit on booking, balance €95 payable on the first evening
When and where
Location
Drumshanbo Enterprise Centre Building C Hilly Road Drumshanbo Enterprise Centre Ireland
Refund Policy
Contact the organiser to request a refund.
About this event
Dreamed of writing a novel?
Writing short stories for magazines?
Start with nothing and watch your words flow.
Let Nicola Kearns, an International and Best-selling Author & Creative Writing coach, show you how to get that story finished and printed, in a magazine, or even begin the first chapter of your own novel.
Our Creative Writing Workshop is for people who have not written since they left school, or for experienced writers - who need to feel inspired again or wish to write something completely different than their usual genre, for example going from fiction writing, to poetry or writing their memoirs.
Creative writing is all about getting the ideas in your head down on paper, simply getting your thoughts out. If you leave the course with one word on paper, that is okay. If you leave with a notebook full of writing, that is okay.
Writing can be emotional. It is hard enough to put our thoughts into words at times, never mind write them down. We all have a unique story, whether it is fictional or factual.
What is Creative Writing?
Creative writing is anything where the purpose is to express thoughts, feelings and emotions rather than to simply convey information.
Types of creative writing include:
• Poetry.
• Plays.
• Movie and television scripts.
• Fiction (novels, novellas, and short stories)
• Songs.
• Speeches.
• Memoirs.
• Personal essays.
Your spelling ability does not matter here. All that matters is your will to write - be inspired, fire your imagination, and to work through the process of composing your work in manageable stages under Nicola's experienced guidance.
The words you write while you are here, nobody has ever written before. That is creative writing. It could be the beginning of a whole new chapter in your own life.
Below is a review of Nicola's coaching skills from Leitrim writer Seamus O'Rourke