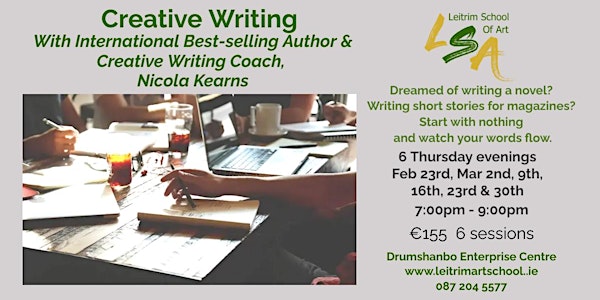 Creative Writing Workshop 6Thurs Eve's 7pm-9pm Feb 23, Mar 2, 9, 16, 23, 30
Creative Writing Workshop, 6 Thursday Evenings starts Feb 23rd, Total €155: €30 deposit on booking, balance €125 payable on the first day.
Date and time
Thu, 23 Feb 2023 19:00 - 21:00 GMT
Location
Drumshanbo Enterprise Centre Building C Hilly Road Drumshanbo Enterprise Centre Ireland
Refund Policy
Contact the organiser to request a refund.
About this event
Dreamed of writing a novel?
Writing short stories for magazines?
Start with nothing and watch your words flow.
Let Nicola Kearns, an International and Best-selling Author & Creative Writing coach, show you how to get that story finished and printed, in a magazine, or even begin the first chapter of your own novel.
Our Creative Writing Workshop is for people who have not written since they left school, or for experienced writers - who need to feel inspired again or wish to write something completely different than their usual genre, for example going from fiction writing, to poetry or writing their memoirs.
Creative writing is all about getting the ideas in your head down on paper, simply getting your thoughts out. If you leave the course with one word on paper, that is okay. If you leave with a notebook full of writing, that is okay.
Writing can be emotional. It is hard enough to put our thoughts into words at times, never mind write them down. We all have a unique story, whether it is fictional or factual.
What is Creative Writing?
Creative writing is anything where the purpose is to express thoughts, feelings and emotions rather than to simply convey information.
Types of creative writing include:
• Poetry.
• Plays.
• Movie and television scripts.
• Fiction (novels, novellas, and short stories)
• Songs.
• Speeches.
• Memoirs.
• Personal essays.
Your spelling ability does not matter here. All that matters is your will to write - be inspired, fire your imagination, and to work through the process of composing your work in manageable stages under Nicola's experienced guidance.
The words you write while you are here, nobody has ever written before. That is creative writing. It could be the beginning of a whole new chapter in your own life.
Please note the 'Deposit and Missed Classes Refund Policy' below
Below is a review of Nicola's coaching skills from Leitrim writer Seamus O'Rourke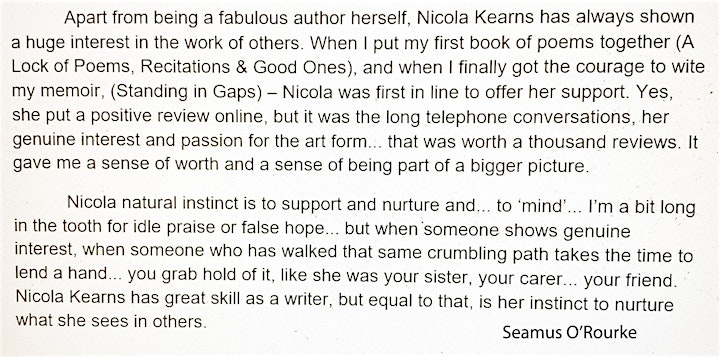 Some reviews and comments from students that have attended Nicola's Creative Writing Workshops here at LSA
" I absolutely loved doing the course and you're style of tutoring was so encouraging and genuine. You yourself created such a sense of ease and fun in the class, which helped everyone feel safe and shine."
"I am absolutely overwhelmed by your generosity regarding my writing. Thank you. I enjoyed your coaching so much, and have learned so much in 5 short weeks. I feel I've got the writing bug now, and have been writing every day. I am so glad our paths crossed, and I do hope I get to work with you again, in the near future. Thank you again. With warm regards always"
"It has been fantastic. I have done other creative writing courses but now I finally have an idea of where I can go with what has been on my mind for years and how to do it. Thank you Nicola."
" I feel like you opened me up to the belief that I can write. I am so blessed to have found your course, the way you teach is just made for the people who have lost faith in themselves and need a hand to guide them back. I don't know how to thank you enough. All I can say is I hope I make you proud because you have put me back on the path xxxx."
Leitrim School of Art (LSA)
Deposit and Missed Classes Refund Policy from 1st December 2022
(a) Due to substantial increases in business costs LSA cannot offer discounts, refunds, or alternative places on future events for missed classes within class blocks.
(b) A request for a refund of a deposit may be considered if the refund request is received by LSA at least 10 days before the start of the event.
(c) A request to transfer a deposit to another event may be considered if the request to transfer is received by LSA at least 10 days before the start of the originally booked event.
(d) Requests for refunds or transfer of deposits must be notified to LSA by email to michael@leitrimartschool.ie
(e) Requests for refunds will be responded to by LSA within 3 days of the request being notified to us.
(f) Your statutory rights as a consumer are not affected and LSA will "make good" on its obligations to consumers for failure to provide classes and workshops (e.g., event cancellation).