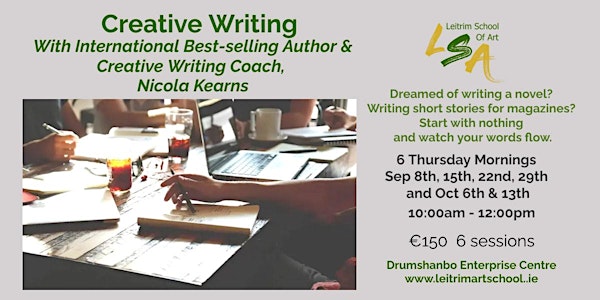 Creative Writing Workshop, 6Thurs Morn10am-12pm Sep 8,15, 22, 29. Oct 6 &13
Creative Writing Workshops 6 Thursday Mornings starts 8th Sep, Total €150: €30 deposit on booking, balance €120 payable on the first day.
When and where
Location
Drumshanbo Enterprise Centre Building C Hilly Road Drumshanbo Enterprise Centre Ireland
About this event
Dreamed of writing a novel?
Writing short stories for magazines?
Start with nothing and watch your words flow.
Let Nicola Kearns, an International and Best-selling Author & Creative Writing coach, show you how to get that story finished and printed, in a magazine, or even begin the first chapter of your own novel.
Your spelling ability does not matter here. All that matters is your will to write - be inspired, fire your imagination, and to work through the process of composing your work in manageable stages under Nicola's experienced guidance.
It could be the beginning of a whole new chapter in your own life.
Below is a review of Nicola's tutoring by Seamus O'Rourke