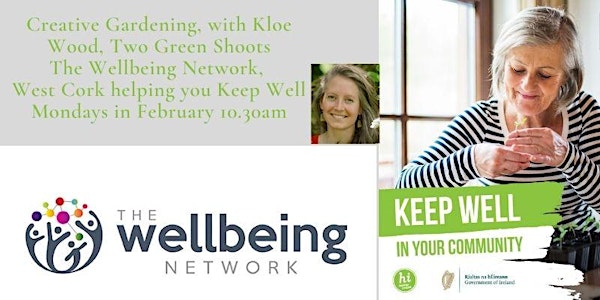 Creativity and Calm in the Garden - Keep Well this February
Take a morning break at home & join us for Creativity and Calm in the garden, as part of our February Keep Well series of events.
About this event
The Wellbeing Network, West Cork invite you to join us for this series of online zoom sessions running over 4 consecutive Mondays in February. Take just 15 to 20 minutes out of your day each week, switch off and be part of something creative.
Mondays: 1st, 8th, 15th, & 22nd February at 10.30am - Creativity and Calm in the Garden with Kloe Wood from Two Green Shoots. Over 4 Mondays in February you will take part in a series of simple seasonal projects such as sowing sweet peas and crafting bird feeders.
Week 1. Feed your senses – Feed The Birds.
This week you will make some simple bird feeders using old jars, tins, pine cones. We will also cover what foods can and can't be given to wild birds & a few top tips of plants to add to the garden to feed wild birds year round.
Week 2. Valentines Special - Gifts from the garden
You will make: 1 x Coat Hook : 1 x Plant Label : 1 x Gift Tag using twigs & branches from the garden - gifts for yourself, friends, family or a neighbour.
Week 3. Sowing Kindness
There's nothing more satisfying than sowing some hope & kindness for the months ahead! You will sow two flowers to enjoy this Summer & that can be used to make uplifting gifts for friends, family & neighbours over the coming months.
Sweet Peas - to make stunning scented posies, sure to put a smile on anyones face
Calendula - with golden blooms to nourish pollinators & enjoy sprinkled into salads & on cakes.
Week 4. Forage & Make a Wild Tea
You will learn how to identify a selection of common wild garden plants before together making a delicious warming Winter brew that we will share virtually as a group.
When you book in, you are booking in for the series of 4 sessions over the 4 Mondays. You will be sent a zoom link to join the sessions and details on some everyday bits and pieces you will need. You will also be posted out seeds for sowing on week 3 (this is why we ask for your postal address on the booking form). If the event is showing as Sold Out, either add yourself to the wait list here on eventbrite, or email ita.murphy@nln.ie to be added to a waiting list and we will contact you if a space becomes available.
Two Green Shoots craft gardens, feasts & escapes that nourish people & places. Their offerings including garden design, seasonal workshops, edible experiences & botanical accommodation.