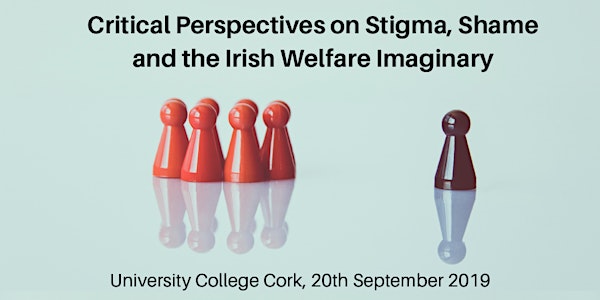 Critical Perspectives on Stigma, Shame and the Irish Welfare Imaginary
1st conference of the Critical Welfare State Studies Network
When and where
Location
CACSSS Seminar Room and Mary Ryan meeting room O' Rahilly Building University College Cork Cork Ireland
About this event
The purpose of the Critical Welfare State Studies Network is to bring together a network of scholars who are interested in the 'critical' in studies of the welfare state. The first conference of the Network - 'Critical Perspectives on Stigma, Shame and the Irish Welfare Imaginary' - aims to uncover the relationship between the processes, procedures and assumptions underpinning the welfare state and processes and experiences of stigma and shame.
Scholarship has shown how welfarist imaginaries (Jensen and Tyler, 2015) can mediate who, what, why and how individuals and particular groups become stigmatised on the basis of their interaction/engagement with the welfare state. In the Irish context, scholarship has largely focused on how the Irish 'welfarist imaginary' shaped principally by Catholic social mores and values worked to stigmatize, shame and institutionalise particular groups such as women and children.
What remains under-explored however, is the relationship between stigma and shame in the contemporary Irish 'welfarist imaginary'. Against these backdrops of historical legacies and recent social change, the wider context of twenty-first century of austerity capitalism and the specific dynamics of austerity, precarity, poverty, insecurity, competition, inequality, and constructions of deserving and un-deservingness in these contexts warrant further exploration.
This conference thus, seeks to capture and advance these multiple dimensions of stigma and shame in Irish welfare state research, analysis and critical debate. Research from the UK context is also highlighted to acknowledge how these issues have surfaced elsewhere.
When registered why not share the news on Twitter, LinkedIn and Facebook etc using the hashtag #CWSS.