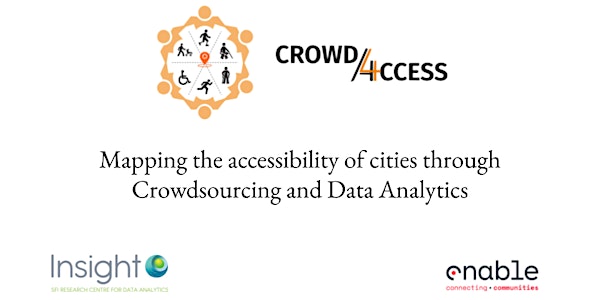 Crowd4Access Mapping Workshop
In the Crowd4Access mapping workshops you will learn how to collect information about the accessibility of footpaths in Irish cities.
About this event
Crowd4Access (http://crowd4access.insight-centre.org/) is a citizen science initiative organised by the Insight SFI Research Centre for Data Analytics. Our goal is to measure the accessibility of footpaths in Irish cities (Galway, Cork and Dublin). To do that we need your help in mapping the footpaths in your region.
In this mapping workshop we will teach you how to document the characteristics of footpaths by taking pictures and adding footpaths and street crossings into a map.
To participate in the workshops you will need:
1) A smartphone (Android or iOS) with a good camera, GPS and internet access (via Wifi), for taking the pictures.
2) A computer with browser and internet access, for adding footpaths into OpenStreetMaps.
You will be invited to do the following activities:
Activity 1. Participate in a 1 hour Zoom call on how to take footpath pictures using the Mapillary service.
Activity 2. Take pictures of a route of your choice (users of crutches and wheelchairs are welcome to join).
Activity 3. Participate in a 2 hours Zoom call to learn how to add the footpath you mapped into OpenStreetMaps.
Activity 4. Map a footpath/street crossing of your choice in OpenStreetMaps.
If you want to participate, just register your interest. If there are no more available places you will be placed into a waiting list and we will contact you at the next opportunity.
To learn more about the project, please visit http://crowd4access.insight-centre.org/