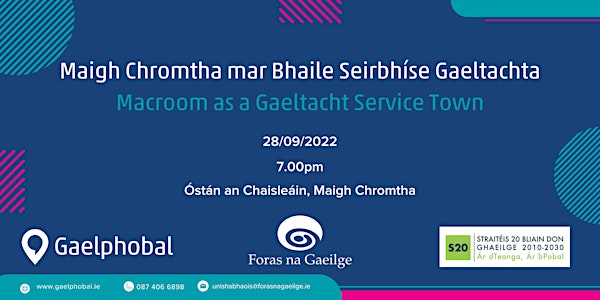 Cruinniú Poiblí: Maigh Chromtha mar BSG | Public meeting: Macroom as a GST
Cruinniú poiblí le plé a dhéanamh ar phleanáil teanga i Maigh Chromtha | Public meeting to discuss language planning in Macroom
When and where
Location
Castle Hotel An Phríomhshráid Maigh Chromtha Ireland
About this event
[Béarla thíos | English below]
Tá deis ag Maigh Chromtha aitheantas a bhaint amach mar bhaile seirbhíse Gaeltachta faoi Acht na Gaeltachta 2012.
Is éard atá i gceist le bailte seirbhíse Gaeltachta ná baile atá suite i limistéir pleanála teanga Ghaeltachta nó taobh leo agus a bhfuil ról suntasach acu maidir le seirbhísí poiblí, saoráidí áineasa, sóisialta agus tráchtála a sholáthar do na limistéir sin.
De réir Acht na Gaeltachta beidh ceanneagraíocht/coiste le roghnú i ngach baile seirbhíse le tabhairt faoi phlean teanga a chur le chéile don bhaile.
Beidh cruinniú eolais do choistí, eagraíochtaí agus páirtithe leasmhara eile atá ag feidhmiú i Maigh Chromtha Dé Céadaoin an 21ú Meán Fómhair ag 7.00 p.m. in Óstán an Chaisleáin chun an phróiseas a bhaineann le pleanáil teanga atá leagtha amach do na bailte seirbhíse Gaeltachta agus an tacaíocht agus an cuidiú a bheidh ar fáil a mhíniú.
Ba mhór againn é dá mbeifeá i láthair ann, mar bhall den phobal áitiúil nó mar ionadaí/ionadaithe ó eagraíocht /ó choiste. Is féidir clárú don chruinniú anseo nó trí nóta a sheoladh chuig unishabhaois@forasnagaeilge.ie.
Is féidir tuilleadh eolais a fháil faoin phróiseas pleanála teanga ar www.gaelphobal.ie.
*****
Macroom has the opportunity to gain recognition as a Gaeltacht service town under the Gaeltacht Act 2012.
Gaeltacht service towns are towns which are located in Gaeltacht language planning areas or adjacent to them and which have a significant role in terms of providing public services, and recreational, social and commercial facilities for those areas.
Under the Gaeltacht Act a lead organisation/committee will be selected in each service town to undertake putting together a language plan for the town.
An information meeting will be held for all committees, organisations and other interested parties operating in Macroom on Wednesday 21st September at 7.00p.m. in the Castle Hotel to explain the language planning process that is outlined for the Gaeltacht service towns and the support and assistance that will be available.
We would appreciate it if you could attend the meeting either as a member of the local community or as a representative of an organisation/ a committee. You can register for the event here or by emailing unishabhaois@forasnagaeilge.ie.
You can find more information on language planning at www.gaelphobal.ie.