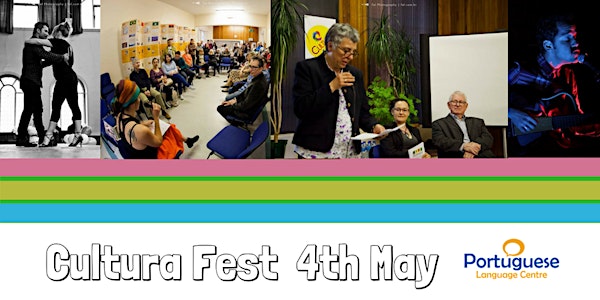 Cultura Fest - Day 3 music, discussion on language and dance performance
Location
Instituto Cervantes
Lincoln Place
#Lincoln House
Dublin
Ireland
Description
Thursday 4 May 2017 | 6pm
Café Literario, Instituto Cervantes
Free admission, booking essential.
Light refreshments, music and a dance performance will lead you into the discussion...
'Belonging or not: keeping your cultural identity in a foreign land'
Moving to another country is without a doubt one of the most exciting and challenging things you are likely to do in your life. This can be a wonderful experience and for some even a chance to take on a whole new personality and to re-invent themselves abroad. Along with that excitement though, there is the difficulty of having to communicate in another language. Even when we understand all the words sometimes we miss the nuances in meaning or the references or don't feel connected as others know nothing of our cultural background. It is as if we are blank slates. At times during this process it can feel like we are losing our authenticity and/or cultural heritage.
'Belonging or not' will take you on a journey with our invited guests as they talk about this relationship between language, culture and identity and discover or share ideas about the obstacles and benefits associated with adopting a new language.
The discussion will be in English but questions will be welcome in Portuguese, English, Spanish, Italian or Dutch!
Discussion Panelists:
Carmen Sanjulián García
Carmen Sanjulián García is a Lecturer of Business Spanish at Dublin Business School and at Trinity College Dublin. She also works at the Instituto Cervantes in Dublin. Her research focuses on the relationship between language, culture and identity and she is especially interested in how to implement the intercultural component into language classes. She studies the relationship between interculturality, economics, politics and society and the way they interact and influence each other.
Francesca La Morgia
Francesca La Morgia is a linguist specialising in child language acquisition and bilingualism. She is a lecturer in Trinity College, at the Department of Clinical Speech and Language Studies. Her main research interests lie in the areas of child language development, parent-child interaction, heritage language transmission, and family language policy. In 2017, Francesca set up Mother Tongues, with the aim to raise awareness about the challenges and the benefits associated with bilingualism and multilingualism.
Rosalinde Schut
Rosalinde is passionate about other cultures and languages, justice and equal opportunity. Born in the Netherlands, she obtained her B.A. (Hons.) and MA in English Language and Culture from the VU University Amsterdam. She moved to Dublin in 2000 and ran the Dutch section at Trinity College. After lecturing and teaching at third level and in adult education for a number of years, Rosalinde embarked on a PhD in Early Modern English Literature at UCD. Building communities and developing relationships are the driving forces in her life.
Chair:
Teresa Cecilio
Teresa Cecilio is a Portuguese teacher at the Portuguese Language Centre. Teresa holds a BA in Modern Languages and Literatures - Portuguese and French and a Higher Diploma in Education from the Faculdade de Letras da Universidade of Porto. She is broadly experienced in teaching Portuguese, having taught in Porto, Lisbon and in Dublin, at secondary school level and at third Level in U.C.D. as well as in several languages schools and Adult Education Centres.
Live music:
Nathalia Ropke singing well-known songs in Portuguese and Spanish
Nathália Röpke, 22, Brazilian. I came from "Rio Grande do Sul", extreme south of Brazil, singing in many events for almost 12 years, I am sure that is my passion. Before I have arrived here, I've had the plan to keep singing and playing for living and I am glad to have achieved it, I should say, that's about pursuing a dream! Here I have had an amazing "new" opportunity as well, which is singing on street (busking), so, for now, I take part in events (weddings, parties, dinners and more) and also go to Grafton street for busking. If you want to follow me closer: https://www.facebook.com/nathaliaropke1
https://www.youtube.com/nathaliaropke
Instagram: @nathaliaropke
Photos on the banner by Felipe Diehl, Anna Flávia and Amanda Rodrigues.