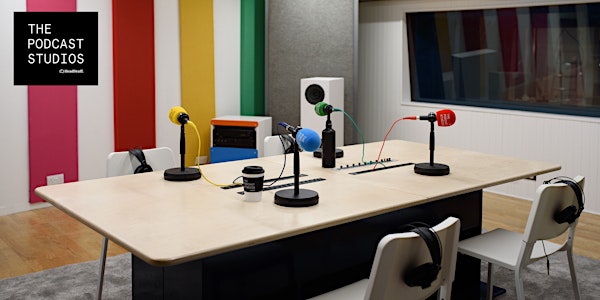 Culture Night 2022: Be a podcaster for a day!
Be a podcaster for a day! The Podcast Studios opens its doors to everyone this Culture Night.
When and where
Location
The Podcast Studios Magennis Place Dublin 2 Ireland
About this event
Throughout the evening, anyone interested can drop in and work with a producer to record their own 5-minute podcast in our state-of-the-art studios in Dublin city centre. The podcast will then be professionally edited and sent to the podcaster that evening, to share with family and friends. This is the perfect opportunity for people of all ages, backgrounds, and cultures to learn about podcast production, record a chat or an interview with a friend, tell a great story, and just have fun.
Alongside this, there will be tours of the studios, to get behind the scenes of podcast production. In our café space, there will be an exhibition on the independent Irish podcasting scene, and a chance to chat with Dublin podcast creators too. An opportunity that can't be missed!
Important Information:
Each recording can hold up to 4 people maximum. If your group is bigger than that you will be split into 2 groups.
-----
Durante el evento, cualquier persona interesada puede venir y trabajar con un productor para grabar su propio podcast de 5 minutos en nuestros modernos estudios en el centro de la ciudad. El podcast será editado profesionalmente y mandado a tu correo electrónico esa misma tarde para que pueda ser compartido con familiares y amigos. Esta es la oportunidad perfecta para que personas de todas las edades y culturas, aprendan acerca de la producción de podcasts, graben una conversacion, entrevisten a un amigo, cuenten anécdotas y se diviertan haciéndolo.
Al mismo tiempo, podrás hacer un tour en los estudios y ver cómo es el detrás de cámaras de una producción de podcast. En nuestra cafetería, encontrarás una exhibición de la escena independiente de podcast irlandés y tendrás la oportunidad de conversar con algunos de los creadores más conocidos. ¡Una oportunidad que no te puedes perder!
Información Importante:
Cada grabación puede tener hasta 4 personas máximo. Si tu grupo de amigos es mayor a 4, el grupo será dividido en dos.