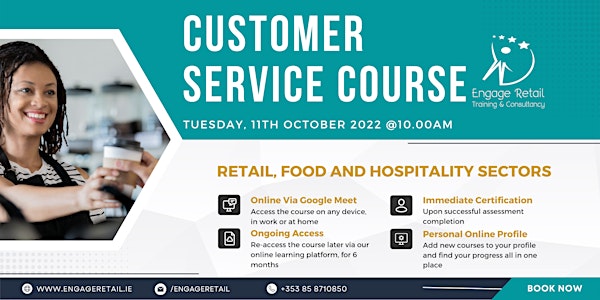 Customer Service Training Course
This Certified Customer Service Course is ideal for anyone in Retail, Hospitality, or any other customer-facing employment sector.
Refund Policy
Contact the organiser to request a refund.
About this event
Customer Service Training Course
This course will be delivered online through Google Meet.
Use code CUSTOM10 for €10 off!
About this course.
This course is designed for all employees, supervisors and managers working in customer-facing retail and services sectors such as:
Retail
Hospitality
Catering
Restaurants and Bars
Hotels and B&Bs
Market Stalls
and so much more!
What the course covers.
The course will teach employees to deliver exceptional levels of service to customers through learning certain techniques that will enhance their skill set.
Greeting Customers
Building customer relationships
Identifying ways to help customers in exceptional circumstances
Dealing with difficult customers professionally
Helping vulnurable customers
Handling customer complaints
Building customer loyalty and retention
If you need to make a query about any aspect of this course, contact us at https://engageretail.ie/contact