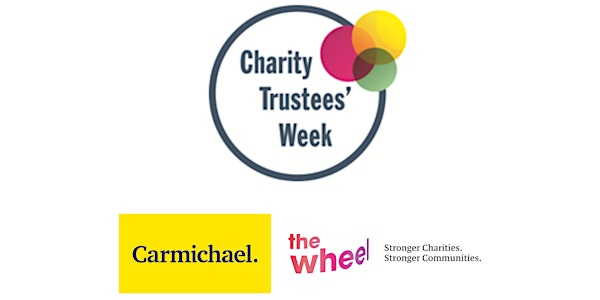 Cutting Edge Board Meetings
How to Harness Technology to Improve Your Board Meetings
When and where
Location
Zoom Online Online Ireland
About this event
It was once taken for granted that every Board and subcommittee meeting would be held in person and accompanied by a lengthy package of printed supporting documents.
Now, more and more Boards are using technology to streamline their meetings. The shift to online or hybrid Board meetings allows Boards to recruit ever more widely, both in terms of distance and in terms of accessibility. However, hybrid board meetings bring their own challenges. Boards require new skills and effective use of technology to aid and streamline the board meeting process from the preparation of the board packs, to board member engagement, to the generating meeting minutes and actions.
Carmichael and The Wheel have curated a panel of experts to discuss how to get the most out of your Board meetings.
Meet the panel
Chair: Deirdre Garvey; CEO The Wheel
Deirdre is a highly experienced senior executive across the nonprofit, charity and commercial sectors. She has over 25 years experience working at national and international level in charity and nonprofit organisations. She the leader of Ireland's representative and support organisation for community and voluntary organisations, charities and social enterprises since its founding in 1999. Deirdre is very motivated by working in mission-driven organisations.
Diarmaid Ó Corrbuí; CEO Carmichael
Diarmaid has been CEO of Carmichael, a leading specialist training and governance support body for nonprofits in Ireland, since 2011. He also has been a Board Member, Chairperson and Company Secretary on a number of boards in both the nonprofit and for-profit sectors. Diarmaid previously worked as a management consultant for over 25 years with Prospectus Consultants and Accenture working with a wide range of organisations in the public, healthcare and nonprofit sectors on strategy, organisation structures and corporate governance. He is also a former civil servant having worked in the Departments of Social Welfare and Finance.
Jean Callanan; Chair of the Irish Hospice Foundation
Jean Callanan is a Strategic Consultant and Change Maker. She is Chair of Irish Hospice Foundation and a Director of An Bord Iascaigh Mhara.
Jillian O'Sullivan; President of the Chartered Governance Institute, Ireland
Jillian joined Grant Thornton in 1991 and became partner in 2007. She assists companies establishing a presence in Ireland, from their initial setup to their on-going compliance, payroll and other outsourced service requirements. She also deals with all areas of corporate compliance and governance. Jillian has significant experience in the restructuring of corporate entities and groups, both medium and large, and in the implementation of related tax planning and succession schemes.
She lectures extensively and facilitates seminars on both the role and responsibilities of directors in companies. Jillian is a fellow of the Chartered Governance Institute UK & Ireland, she is the current President of the Institute in Ireland and also chairs the company secretarial practice committee and is a member of the Governance and Nomination Committee for the Institute.
Jillian holds diplomas in Commercial law and Corporate Governance from the Law Society of Ireland together with a Diploma in Taxation from the Irish Institute of Tax.
Bob Semple; Independent Governance Consultant
Bob Semple has more than 40 years' experience as an accountant, auditor and management consultant (PwC) and, more recently, as a director and independent consultant - specialising in governance and board effectiveness reviews. Bob is a science graduate, a Chartered Accountant, a Chartered Director and a Certified Psychometric Evaluator.