Description
Cyber Expo Ireland 2019
Renaissance Ireland's leading data security distributor, is delighted to announce the return of Cyber Expo Ireland in 2019 on Tuesday 26th November, at the Irish Management Institute (IMI) Dublin.
Renaissance launched Cyber Expo Ireland in 2017 to make it easier for Irish business leaders, by bringing the members of the Cyber Ecosystem together under one roof - Vendors, Value Added Resellers (VARs), Security Experts and End Users. Two years on and the brand has gone from strength to strength; and for the annual event this November, there is a new addition – the Cyber Conference Ireland (CyberConIreland) borne as a direct result of member feedback.
Members of the Ecosystem were telling us that the Cyber Expo was brilliant from a Solution/Product perspective, but that they could really benefit from more in-depth workshops, expert sessions detailing the 'How of Cyber Security'. Often we make assumptions that business leaders understand the different types of attacks and subsequent risk mitigation options, but the industry is just changing at such a phenomenal rate that it's so difficult to keep up – We believe that the new CyberConIreland will complement the Cyber Expo perfectly and add practical depth to the day for those who need it.
The CyberConIreland will incorporate world-class content from leading brands embracing and developing cutting edge technologies across Cyber Security, Cloud, IoT, Blockchain, AI and Big Data.
There will be real life case studies and expert panel discussions across 6 dedicated tracks: Identity & Rights Management | Malware | Information Compliance & Regulation | Messaging | Gateway
Identity & Rights Management, probably one of the most challenging areas of security with Organisations transitioning to cloud services and mobile devices to cut costs and boost productivity. The focus will include information security policies, target operating models, assessing risk for access management, Implementing IT Controls and business education & awareness.
Malware, any type of malicious software, program or file that is harmful to a computer user. The track focus will include malware and destructive malware (The number of groups using destructive malware increased by 25 percent in 2018!), ransomware and advanced malware remediation and protection.
Information Compliance & Regulation will examine the Classification of Data, Data protection and Data identification (GDPR, PCI). And interestingly, just when you thought that GDPR was the best publicised topic this decade, a recent Hiscox survey of 500 UK SME's (and we assume similar stats in Ireland) showed that 39% still didn't know who GDPR affects, and 10% didn't realise that GDPR grants new data access rights to consumers. The data makes it clear that there is always more work to be done to educate some consumers and businesses on what GDPR entails.
Messaging will examine the evolution of email technologies (20.5 billion emails are sent daily!) how to ensure security& privacy with latest technologies, message encryption and integration of Document Rights into the email stream.
Analytics will discuss the evolution from Security Incident and Event Management (SIEM) to meet the need for greater security across business; more context and more insights. There are three key components: Security Incident and Event Management (SIEM), Behaviour Anomaly Detection (BAD or UEBA) and Threat Intelligence.
Gateway will review current trends preventing unsecured traffic from entering your internal network. Protect your business by protecting your employees/users from accessing and being infected by malicious Web traffic, websites and virus/malware, while also ensuring the implementation and compliance of your organisation's regulatory policy.
Here's a look at our agenda for the Cyber Con 2019: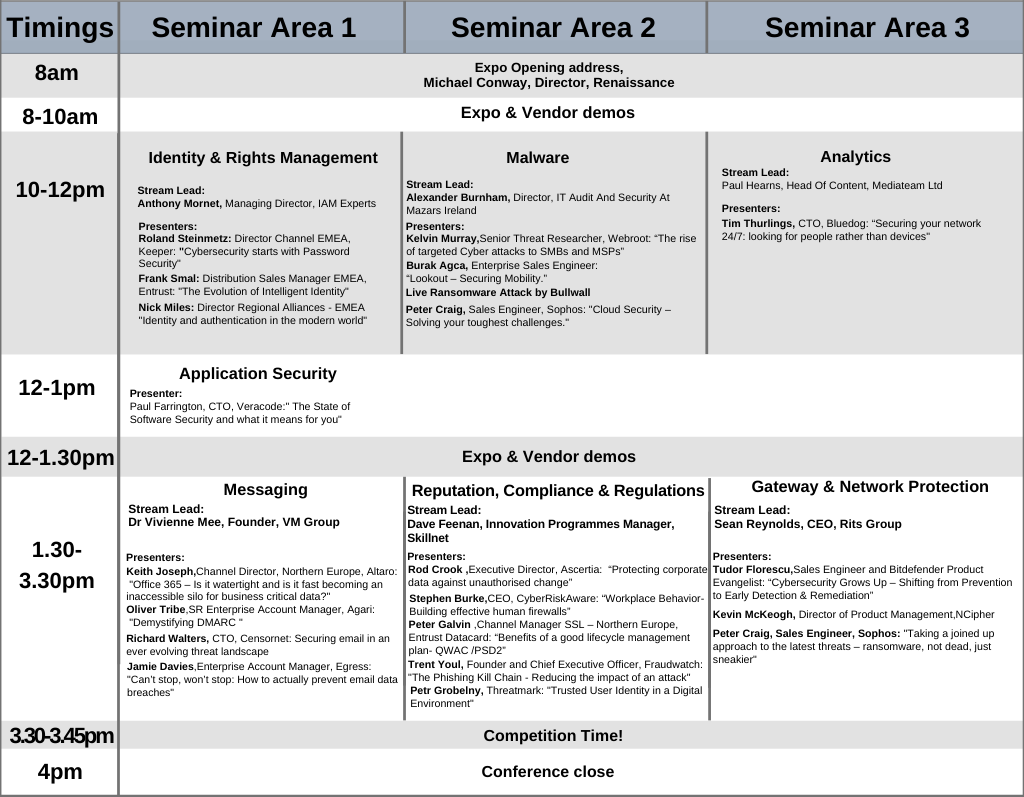 Vendors
Agari

Altaro

Appixoft

Ascertia

Bitdefender

Bluedog

Censornet

Clearcrypt

CoSoSys

Cyber Risk Aware

Cyglass

Egress

Entrust Datacard

Exo5

Fraudwatch

N-Cipher

Lookout

Security Scorecard

Sophos

Veracode

Webroot
Keeper

Lookingglass

OKTA

Threatmark
Resellers
Unity
Paradyn
Intuity
Future Range
Ergo
NSSL
ITMS
Actionpoint
Qualcom
Leaf
Who Should Attend:
Our Expo will be open to IT Trade and End Users in the Irish market. There will be heavy focus to attract value added partners to the Expo, while we will also be keen to attract SMB and Corporate Users to demonstrate how they can apply Data Security and Compliance solutions within their organisations to develop and deliver their GDPR and other regulatory requirements.
Don't miss out, register today to join our Cyber Security Ecosystem!