Description
Course Overview:
Cyber Risk International (CRI) are a world leading cyber advisory firm. Our executive cyber risk boot camp is non-technical course, designed specifically for senior leaders in order for them to understand their obligations and develop an appropriate strategy to support their business model. Delegates will gain an understanding of the cyber threat landscape and the steps every board should be taking in relation to measuring and managing cyber risk.
The course is delivered by Paul C Dwyer Author of "The Art of Cyber Risk Oversight" and is recognised as one of the world's foremost experts on cyber security, risk and privacy.
Who Is This Course For?
• C-Level Including:
- CEO, CFO, CIO, CRO, CISO
• NxD's and Board Advisors
• Managing Directors and Partners
• Senior Leaders Responsible for Functions Related to:
- Enterprise Risk, Compliance, Legal, Cyber Security, Supply Chain, IT, Crisis Management, Internal Audit
Modules
• The Cyber Challenge
• Developing a Strategy
• Understanding a Framework
• Measuring Cyber Risk – Key Metrics
• Internal Key Players – Creating a Team
• Dealing with Third Parties and Gaining Assurance
• TTP's Tactics, Techniques and Procedures
• Cyber Governance
• Implementing, Developing and Sustaining
• Action Plan – Key Steps
Lead Advisor Profile - Paul C Dwyer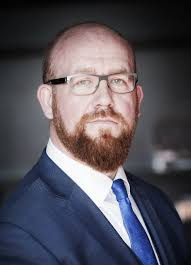 Author: The Art of Cyber Risk Oversight

Paul C Dwyer is recognised as one of the world's foremost experts on cyber security, risk and privacy. As CEO of Cyber Risk International he specialises in corporate and enterprise security, development of cyber defence programs, and business operations protection for CRI clients.

Certified an industry professional by the International Information Security Certification Consortium (ISC2) and the Information System Audit and Control Association (ISACA). Approved by the National Crime Faculty and the HTCN High Tech Crime Network. He has worked extensively around the world and his diverse career spans more than 25 years working with military, law enforcement and the commercial sector.

Roles have included:

• President of the ICTTF International Cyber Threat Task Force
• Co Chairman of the UK NCA National Crime Agency Industry Group
• Advisor to NaCTSO (National Counter Terrorism Security Office)
• Advisor to NATO on Countering Hybrid Cyber Threats
• Advisor to UK Defence Committee DEFCOM in Parliament
• Deputy Chair – Organised Crime Task Force Industry Group – NI
• Interim Global CISO for Numerous Multi-National Organisations
• Advisor to Numerous Governments and Intelligence agencies

Paul is a member of a number of industry groups including the IoD (Institute of Directors), IIEA (Institute of International and European Affairs) and the IRM (Institute of Risk Management).

As an accomplished serial entrepreneur he has successfully built a number of security practices in the UK & Ireland and in 2016 was identified by Business and Finance as one of Ireland's Top 100 CEOs.
His career started as a technical networking specialist, he then specialised, trained and qualified in a number of disciplines including but not limited to ethical hacking, forensics, international management systems, risk management, business continuity, international governance frameworks, financial service regulations, cyber laws and project mgt.