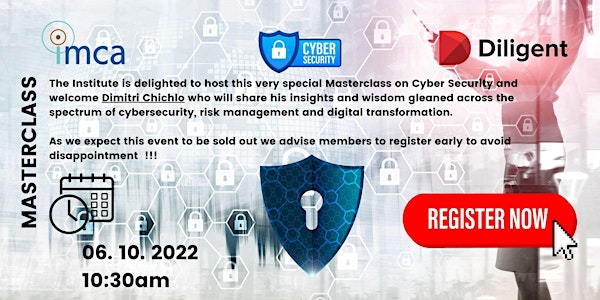 CYBER SECURITY MASTERCLASS
CYBER SECURITY MASTERCLASS
About this event
The Institute is delighted to welcome Dimitri Chichlo for this important Masterclass on the critical subject of Cyber Security and Cyber Risk.
Dimitri has many years of international experience in cybersecurity, risk management, information technology, operations, digital transformation, audit and finance in various financial institutions. He has lived in Switzerland, Ukraine, Germany, and France. In 2017, he graduated from INSEAD where he earned an Executive MBA. Since 2019, he is a member of the Board of Directors of Ukreximbank (3rd largest bank in Ukraine) where he supervises a deep operational and digital transformation in a corporate turnaround context as chair of the Operations & Digital Committee. He has delivered numerous speeches and keynotes at cybersecurity conferences in Europe, Africa, Middle East, and Asia.
Dimitri founded AndSecure to bring a new, holistic approach towards cybersecurity. Instead of advocating cybersecurity through FUD (Fear, Uncertainty and Doubt), his approach is rather focused on how to leverage IT and information security combined to create value, operate digital transformation, decrease operational costs, and streamline operations.
During his free time, he mainly enjoys training and running long-distance trails in the Swiss Alps besides other outdoor activities
The Masterclass will be hosted by Patrick Downes and is generaously supported by our Diligent Boardeffect