Description
We are very excited to announce details for Cyber Threat Summit 2017 AKA #CTS2017. Now in its seventh year, the Cyber Threat Summit has become Europe's leading cyber risk exhibition and conference.
This year our event will take place in The Helix, DCU Campus, Glasnevin, Dublin on the 24th October 2017.
The Helix is one of Ireland's most impressive multi-purpose venues. Aside from the breath-taking vista of the building inside and out, the venue prides itself on the range of events it stages. This multi-purpose venue has over 20 different spaces and rooms including Auditoriums, Conference Rooms, Boardrooms, Exhibition Areas, Green Rooms and Dressing Rooms.
Developing and enhancing each year, 2017 will embrace the theme of "European Cyber Summit" an opportunity to focus on Euro cyber issues such as BREXIT, GDPR and the NIS Directive.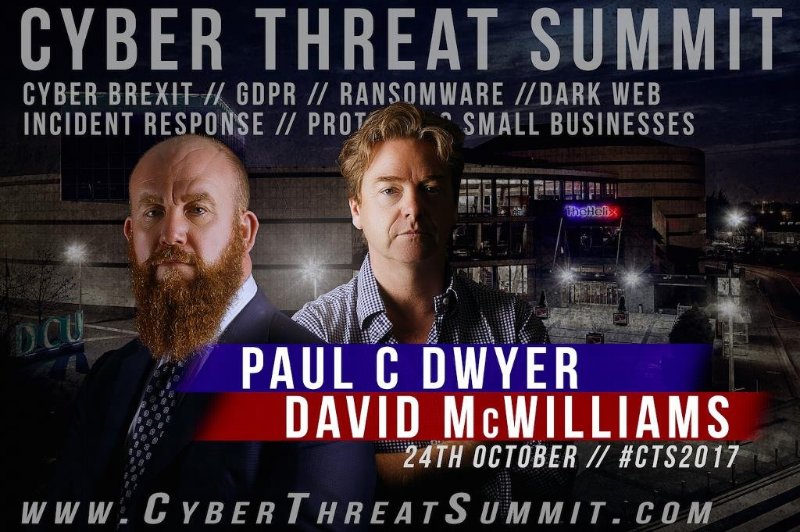 Our annual Cyber Threat summit has been a great success for the past 6 years and as you can see below the progress that has been made.
2011 - One Day Event - Convention Centre Dublin - 450 attended our inaugural event
2012 - Two Day Event - Malahide, Co Dublin - 850 attended over 2 days
2013 - 24 Hour Global Virtual Event - Commencing in NZ and Following the Sun - 11,000 visitors
2014 - The Convention Centre Dublin - 450 Attendees
2015 - The Mansion House Dublin - 450 Attendees
2016 – The Mansion House Dublin – 450 Attendees
2017 – The Helix Dublin – 2000+ Attendees
This year we will have:
1,000+ Delegates
100+ Speakers
50+ Exhibitors
3 Tracks
1 Day
There will be three track stages running concurrently this year, giving the audience an opportunity to jump between levels of content.
Track 1 – Strategic - Presentations, thought leadership and panel discussions relating to strategic solutions and aspects of cyber risk.
Track 2 – Operational – Presentations focussed on the operational aspects of managing cyber risk, this includes frameworks, regulatory and management systems related topics.
Track 3 – Technical – A chance to see solutions in action, the technical showcase track allows delegates to see demonstrations of technical solutions in operation and interact directly with vendors.
#CTS2017 will also host a "Cyber Start-Up Zone". Innovation is a key factor in detecting, responding and mitigating cyber risk. The start-up zone is an opportunity for cyber start-ups from all over Europe to showcase their innovative solutions and for delegates to learn more about the benefits of these solutions. Investors and cyber start-up entrepreneurs will also have an extensive opportunity to network
** Please note that we do not offer refunds for purchased tickets, however we do allow name changes to tickets up to 30 days before the event**