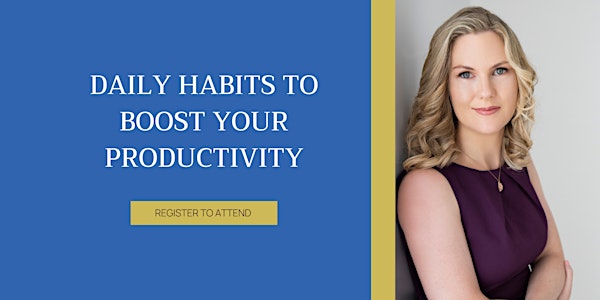 Daily Habits to Boost Your Productivity
Spend more of your time on meaningful work and switch off at the end of the day.
About this event
Are you frustrated with your workday? Do you spend too much time firefighting and dealing with last minutes requests?
If you answered yes to these questions, I am here to help.
In this action-focused webinar, I will share the three key daily habits to boost your productivity for the long term.
These three daily habits will help you to:
Get clear on your priorities.
Be confident that you are spending your time on the right things.
Feel calm and in control on even the busiest days.
By the end of our time together, you will have the tools to spend more time on the work that really matters and enjoy the wonderful feeling of a "job well done" at the end of the day.
I am so excited to share these practical yet transformational steps with you. Join me on Tuesday, October 11th and take the first step to a better workday!