Event Information
Location
Pharmacia
8 Sarsfield Street
Limerick
Ireland
Guess whos back with a bang? Overload Motherf*cking Dark. thats who!
About this event
Ireland's hardest club night is back in the newly refurbished Attik Nightclub in Pharmacia Limerick City on the 25th of Jan 2019
We have an all star cast of hard rebels lined up for your entertainment pleasure on the night with players from these shores and beyond...
Line-up
Dark By Design Recordings
Dark By Design has been a main staple of the Hard house, Hard Trance and Harderstylez scene for many years all over the world, and we are delighted to have him back once again. The last time DBD played a set here for us he blow the roof clean off the Groody, one of the best nights we have ever seen...
MooneY
One of the longest serving and hardest working Hard DJs on these shores and one half of the ReoffenderZ, MooneY is sure to bring it the way we like it, nice and hard, expect anything from Powerstomp to Gabber...
Kellahertz
Kella has been the driving force behind Overload Dark since its conception in 2009 and will be bringing out the rawest of beatz for this night once again...
Ronnie Rawcore
Ronnie is one of the co-founders of one of if not the best Hardstyle/Hardcore nights in Northern Ireland Twisted Rawcore and we are delighted to have him come down and play for us on his Sothern debut, expect it hard and Raw from this up and coming talent...
Special Guest
Bob.E (Dj/Production) H.S.T.B. Bob
Well what can we say about Bob E that the Limerick crowd doesn't know already, well Bob has been laying it down around the country for many years, his bounce sounds are sure to get you all rocking on this night...
Funktion 1 sound
Full laser show
Drinks Promos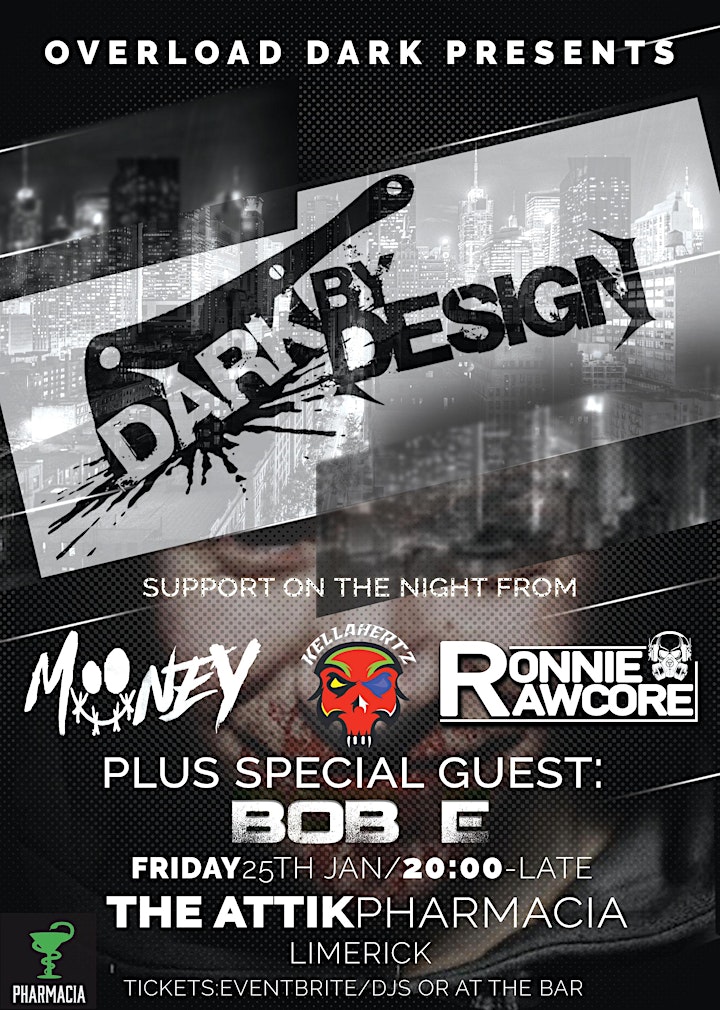 Date and time
Location
Pharmacia
8 Sarsfield Street
Limerick
Ireland