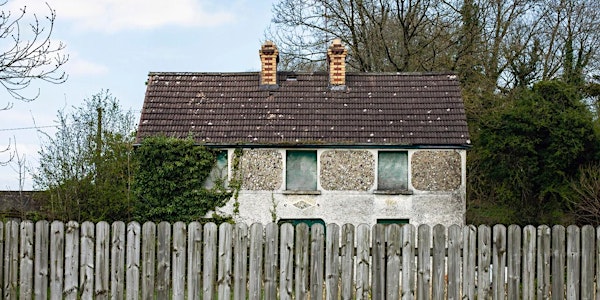 Darren Campion in Conversation with Gerry Blake: dlr LexIcon Gallery
Join artist Gerry Blake and writer Darren Campion discussing the ideas and photographic approaches that led to the development of Home Place
About this event
Join artist Gerry Blake and writer Darren Campion in this online talk as they discuss the ideas and photographic approaches that led to the development of Blake's current exhibition at dlr Lexicon Gallery.
About Gerry Blake's Home Place
Home, in the form of a dwelling, is a place of belonging and attachment. Making a home, however, is more difficult now than at any time in recent memory. Despite the dire need for adequate accommodation there isa huge number of empty and abandoned houses to be seen in towns and cities throughout Ireland, and those who do manage to make themselves a home often have to overcome major obstacles.
Photographic artist Gerry Blake has spent the last 3 years exploring empty and abandoned houses around Ireland. On these journeys, he also met with people who are living in various forms of accommodation, from cottages and apartments to house boats and converted buses. The stories these people have to tell inform the project. They highlight the gulf between the needs and aspirations of people and the reality of a housing environment dominated by the market economy.
More information about Home Place available here
About Darren Campion
Darren Campion is a critic interested in contemporary photographic practices, particularly around visual narrative, and the photobook. He has written extensively about photography for international publications and websites, including FOAM, Paper Journal, YET magazine, Photomonitor, and the Irish Arts Review. He has also contributed essays and texts to several artist's monographs, including Thomas Albdorf, General View (Skinnerboox, 2017) and Aapo Huhta's Omatandangole, (Kehrer Verlag, 2019). He published two collections of his writing on photography in 2016 and 2018. A major new text charting key aspects in the development of contemporary Irish photographic practices was commissioned for In Our Own Image: Photography in Ireland, 1839 to the Present (forthcoming). In addition to writing, he currently works at Gallery of Photography Ireland where he contributes to the exhibition and engagement programmes.
About Gerry Blake
Born in Dublin, Gerry Blake is a photographic artist and tutor based in Co. Wicklow. He studied photography at NCAD, Dublin, and completed a master's in photography at Ulster University, Belfast. Before taking up the study and practice of photography he had a career in computing.
His work is mainly concerned with the individual in their environment, and in his practice, he explores how we are shaped through the environmental situations in which we find ourselves. He was the winner of the Emerging Photographic Artist award at the 185th annual exhibition of the Royal Hibernian Academy, 2015 and was shortlisted for the Hennessy Portrait Prize at the National Gallery of Ireland in the same year.
Gerry has exhibited nationally and internationally, and his work is held in public, private and corporate collections.
Guidelines:
Please ensure your Zoom name matches the booking to prevent being blocked from entering the session.
The Zoom link will be sent via Eventbrite 24-48 hours before the event date.
To prevent "Zoom-bombing", all sessions are password protected and the unique links and password to each individual session are only shared with those intended to participate.
dlr Arts Office will send the invite link using Eventbrite.
The email used to book this workshop will be visible to the facilitator/co-host of this workshop, you will only be contacted directly if there is a technical issue during the workshop by the facilitator/co-host. Emails will not be used for any other purpose.
The 'waiting room' feature is enabled, meaning that anyone accessing the session has to be approved by the person 'hosting' the session. We will check your name against our bookings before admitting you to the workshop. This ensures all participants have booked for the event. For this reason, please ensure your ZOOM username/profile name matches the name used to book the event.
dlr Arts Office settings do not allow for any file sharing
dlr Arts Office settings do not allow users or participants to sign in using their social media to protect privacy