Event Information
Location
Burke Theatre, Arts Building
Trinity College Dublin
College Green
Dublin 2
Ireland
The Irish Posture & Mobility Network (IPMN) is proud to host their annual Day of Shared Learning
About this event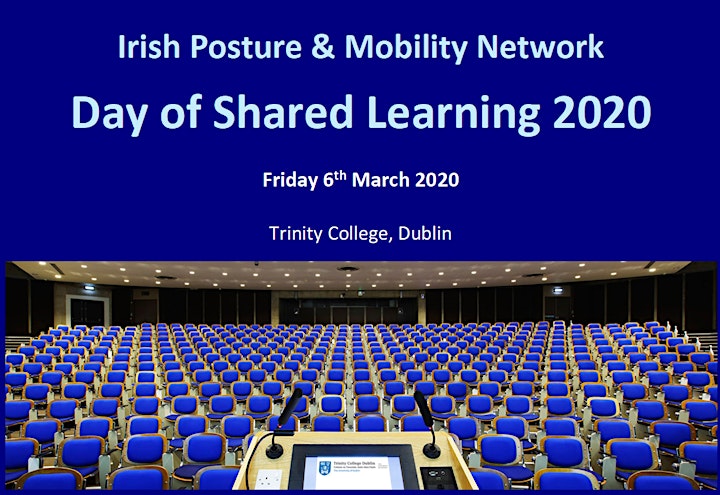 Booking Closed. See you on Friday!
The deadline for receipt of specific dietary requirement requests was Tuesday 25th February. It has now passed.
Purchase Assistance
If you have any difficulty when ordering your ticket, please see the troubleshooting section at the bottom of this page.
Event Description
The Irish Posture & Mobility Network (IPMN) is hosting their Day of Shared Learning event on the 6th March 2020 at Trinity College Dublin.
Speakers from a variety of fields will talk on a wide range of topics related to innovation, research and best practice in seating, posture and mobility. It is also a great opportunity for networking during the coffee breaks and hot lunch.
Event attendance and IPMN membership is open to anyone working, training, or with an interest, in the fields of mobility and/or postural management (Doctors, Nurses, Occupational Therapists, Physiotherapists, Prosthetists, Orthotists, Clinical Engineers and Technicians, Product Designers, Product Specialists). The Irish Posture and Mobility Network also welcomes and promotes the attendance and active participation of users of posture and mobility products.
The venue is wheelchair accessible.
Speakers Include
subject to change - updated 29/02/2020 13:00
Deepa Pradhan (Occupational Therapist, Educator)
Rosemary Gowran (Occupational Therapist, Educator)
Regina Doyle (Occupational Therapist)
Laura Binions (Occupational Therapist)
Irina Jackson (Occupational Therapist)
Margaret Kennedy (Nurse, Social Worker, Researcher, Wheelchair User, Advocate)
Pinar Avsar (Nurse, Researcher)
Sohini De (Nutritional Therapist)
John Lynch (Physiotherapist)
Marcin Uszynski (Physiotherapist)
Paul Reid (Product Specialist)
Barend ter Haar (Product Specialist, Educator)
Colin Keogh (Engineer)
Robbie O'Connor (Engineer, Educator)
Susan Nace (Engineer, Researcher)
Adam Hynes (Engineering Student)
Molly O'Mara (Engineering Student)
Rebecca Grimes (Engineering Student)
Sean McMahon (Engineering Student)
Topics Include
subject to change - updated 29/02/2020 13:00
Occupational Therapy Intervention to Improve the Quality of Life of a Client With Friedreich's Ataxia: A Case Study of Complete Rehabilitation from Complete Dependency to Living Independently
The AOTI Seating and Posture in Occupational Therapy Advisory Group (SPOTAG): Our Journey and Future Plans
Mollii Suit: An Innovative Therapeutic Approach to Treat Spasticity in Adults and Children with Various Neurological Conditions
Restructuring Wheelchair and Seating Service Provision to a Paediatric Population with Complex Postural and Cognitive Disabilities
From a "Client-Centred" to a "Co-Assessing" Model of Wheelchair & Seating Assessments
Global Challenges for Appropriate Wheelchair Provision: Is This Impacting Our Practice?
Repositioning for Prevention of Pressure Ulcers: Systematic Review Results
Measure It to Manage It
3DAssist Tallaght: A Vehicle for Civic Engagement Within the Third Level Sector
Selection, Placement and Fixation of Flexible Postural Support Devices in Seating
Improving the Toileting Experience for Wheelchair Users
Becoming a Wheelchair User: Exploring the Experiences of Adults With Spinal Cord Injury as They Adjust to Wheelchair Use
Digital Hardware Systems: Tools to Improve Healthcare Interventions
Advancements in the Digital Design and Advanced Manufacturing of Custom-Contoured Wheelchair Cushions
Purchase Assistance
Troubleshooting the Purchase Process
A few of the fields (ie boxes) in the order form are mandatory. That means you must complete them in order to place the order. Mandatory fields are highlighted with a small red asterisk to the right of the field name, as per the screenshot below.
The fields which are mandatory are:
first name
surname
email
(all information)
first name
surname
email
mobile phone
meal preference
additional terms consent
personal data use consent
Once all of the mandatory fields have been completed, the "Place Order" button will change from light grey to dark orange (as per the screenshots below). Click it to proceed with the order.
If you have followed the instructions above, and you are still having difficulty, then please get in touch at info@ipmn.ie
Screenshots...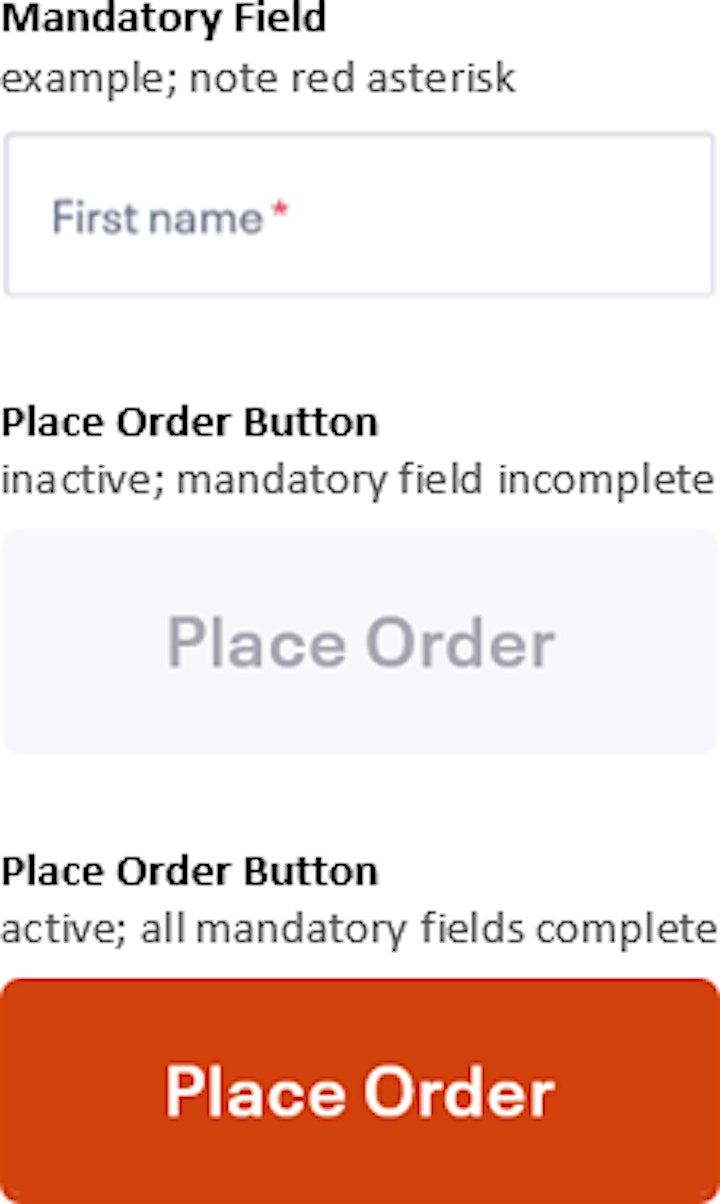 Date and time
Location
Burke Theatre, Arts Building
Trinity College Dublin
College Green
Dublin 2
Ireland
Refund policy