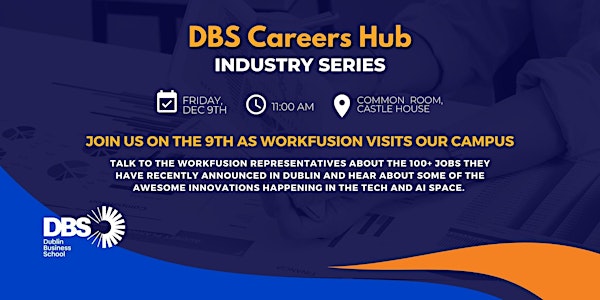 DBS Campus visit - Workfusion
Representatives of Workfusion visits DBS Castle House campus on 9th of December from 11 am to 1 pm.
When and where
Location
DBS Castle House Exchequer Street South-East Inner City Ireland
About this event
We are delighted to announce that the representatives of 'WorkFusion' will be visiting our Castle House campus on the 9th of December.
WorkFusion is a global company with offices in US, Ireland, Spain and India. They are the leading provider of Intelligent Automation solutions for Fortune 500 enterprises, banks, insurance, and financial services companies.
WorkFusion's AI-enabled Digital Workers augment traditional teams by performing highly skilled and decision-centric work in operations areas including customer service and onboarding, account opening and identify verification, anti–money laundering programs, and other document-intensive compliance activities. The WorkFusion Digital Workforce continually learns on the job through regular "human in the loop" interactions with co-workers.
Robert Hourie (https://www.linkedin.com/in/roberthourie/) from WorkFusion will be visiting the campus along with their VP of Engineering to talk about some of the roles that are now open for fresh graduates and students as well as some senior roles within the company.
Join this event to meet with the WorkFusion team to introduce yourself and network with them as they have over 100 new job openings announced in Dublin currently.