Multiple Dates
DCC Conservation Conference 2021 RE-Purpose: Built to Last
Highlighting examples where buildings have been brought back from vacancy through high quality conservation repair projects and strategies
About this event
Vacant, derelict and underused buildings and sites are a feature of every village, town and city across Ireland and most often, they consist of older buildings and sites that make up our historic built heritage. This neglect is of serious concern when we face a climate crisis that requires us to embrace sustainable living and a housing crisis that could be alleviated by the rehabilitation and adaptive reuse of these historic buildings and sites. The bringing back into sustainable use of vacant, derelict and underused sites is crucial for the long-term viability of our villages, towns and cities. There is an increasing awareness of the many benefits of working with existing buildings, as acknowledged by architect and former president of the AIA (2007) Carl Elefante who cites that "the greenest building is one that is already built".
The Theme for our DCC Conservation Conference 2021 is RE-Purpose: Built to Last, where we will highlight examples of where buildings and sites have been brought back from vacancy, dereliction and underuse through high quality conservation repair projects and strategies.
Our speakers across the two days will include Graham Hickey of the Dublin Civic Trust, Alison Harvey of the Heritage Council, Charles Duggan, Heritage Officer in DCC, Victoria Mc Carthy, Conservation Officer in Co. Kerry, Duncan McLaren of Dedalus Architecture, Lauren Tuite of D8 Developments, David Hughes of ICOMOS, Marcus Patton of Hearth Historic Buildings Trust, Rosaleen Crushell and Doug Carson of Carson and Crushell Architects and Jessica Lange of City Architects in DCC.
Our speakers will cover a variety of topics, including the consideration of the values and significance of our existing historic building stock in the first instance and the important role it plays in shaping the rich and varied villages, towns and cityscapes in which we live. We will consider the environmental consequences of demolition, and present what we consider to be successful examples of a variety of schemes where the existing historic buildings have been retained, repurposed and modified and the subsequent impact that these projects have had on the surrounding area.
The conference will be in an online capacity on the mornings of the 18th and 25th November 2021 from 9am to 1pm.
(Photo Credit: Visit Donegal)
Please ensure that you open all links to the eventbrite and zoom portals in Google Chrome.
For any queries, please contact conservation@dublincity.ie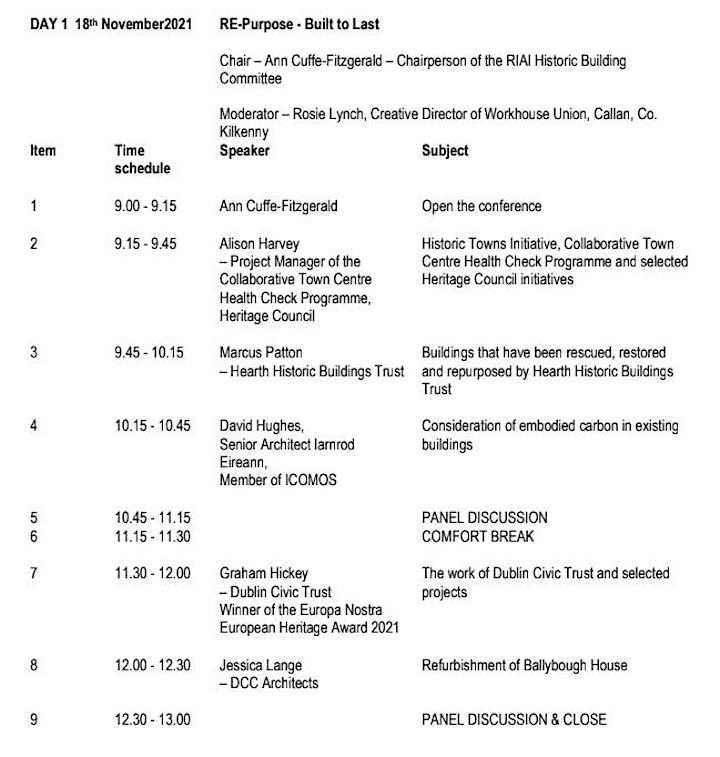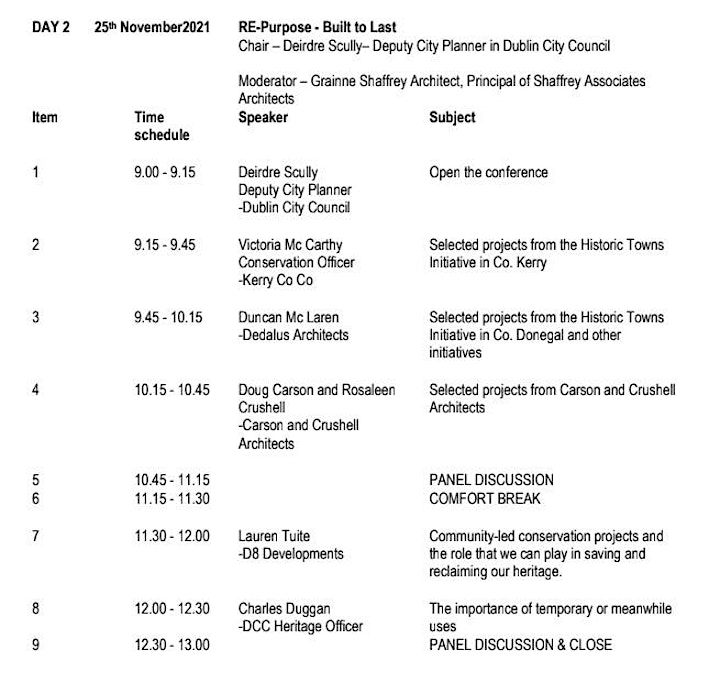 Organiser of DCC Conservation Conference 2021 RE-Purpose: Built to Last