Bealtaine is Ireland's national festival which celebrates the arts and creativity as we age.
About this event
Bealtaine is one of Ireland's largest co-operative festival and the world's first national celebration of creativity in older age. The Festival brings together people from all over Ireland to foster and inspire creativity among older people and to promote the skills, experiences and exposure that can lead to a rich creative life for all older people.
The festival is run by Age & Opportunity, the leading national development organisation improving the quality of life of people aged 50 – 100+.
To learn more visit: https://bealtaine.ie/
DCU Age-Friendly University is delighted to mark the Bealtaine Festival with a 4-day event with the launch of a suite of online engagements funded by DCU'S Anam Initiative.
Monday 24th will feature the release of a podcast, with contributions from staff, students and participants of the Age-Friendly DCU programme.
Tuesday 25th will mark the release of an E-book, "Hello World" - A celebration of life in lockdown" showcasing the written pieces and illustrations featured in the podcast.
On Wednesday 26th 10 - 11am, Dr Vera Gallistl, University of Vienna will make a presentation on "Cultural Ageing - Ageing In and Through The Arts".
On Wednesday afternoon 2.00 - 3pm Dr Cathy Fowley, Director of Silver Thread Limited will present "January to May, Stories from the Calendar".
Thursday 27th will feature the release of a number of videos with contributions from staff, students and participants of the Age-Friendly DCU programme.
We are delighted to be taking part in the Festival and contributing to the ageing agenda in Ireland.
Register now to be part of these events.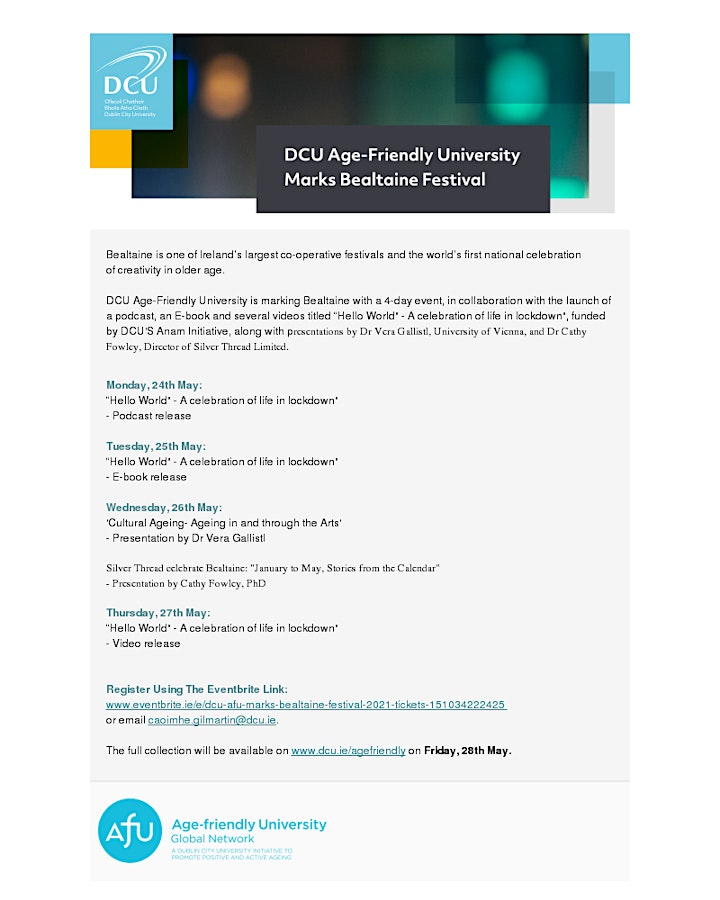 Organiser of DCU AFU Marks Bealtaine Festival 2021
Christine O'Kelly is the Age-Friendly Coordinator at Dublin City University, the world's first designated Age-Friendly University.  DCU is leading a global initiative of Age-Friendly Universities. AFU membership comprises over 75 universities representing Europe, North America, Canada, South-East Asia and Australia.
DCU is a member of the International Federation of Ageing, the EU Innovnet Partnership, E-Region Seniors Network and is a founder member of the EU Covenant on Demographic Change.  DCU's Age-Friendly Principles have been endorsed by the Academy for Gerontology in Higher Education.