DCU - Methodological considerations in digital health behaviour change rese...
Description
Digital Behaviour Change Interventions (DBCIs) refer to the incorporation and delivery of behaviour change techniques via a digital technology, such as a smart phone application, text messaging programmes, or web-based interventions, to improve health or well-being outcomes in a given context.
DBCIs are increasingly popular as they overcome many of the traditional obstacles experienced in population health research and enable expedient, person-centred care. In conjunction with the HRB TMRN and the eHealth Research and Innovation Network (ERIN), the aim of this workshop is to provide practical guidance, from international DBCI experts, about methodological considerations when conducting randomised trials.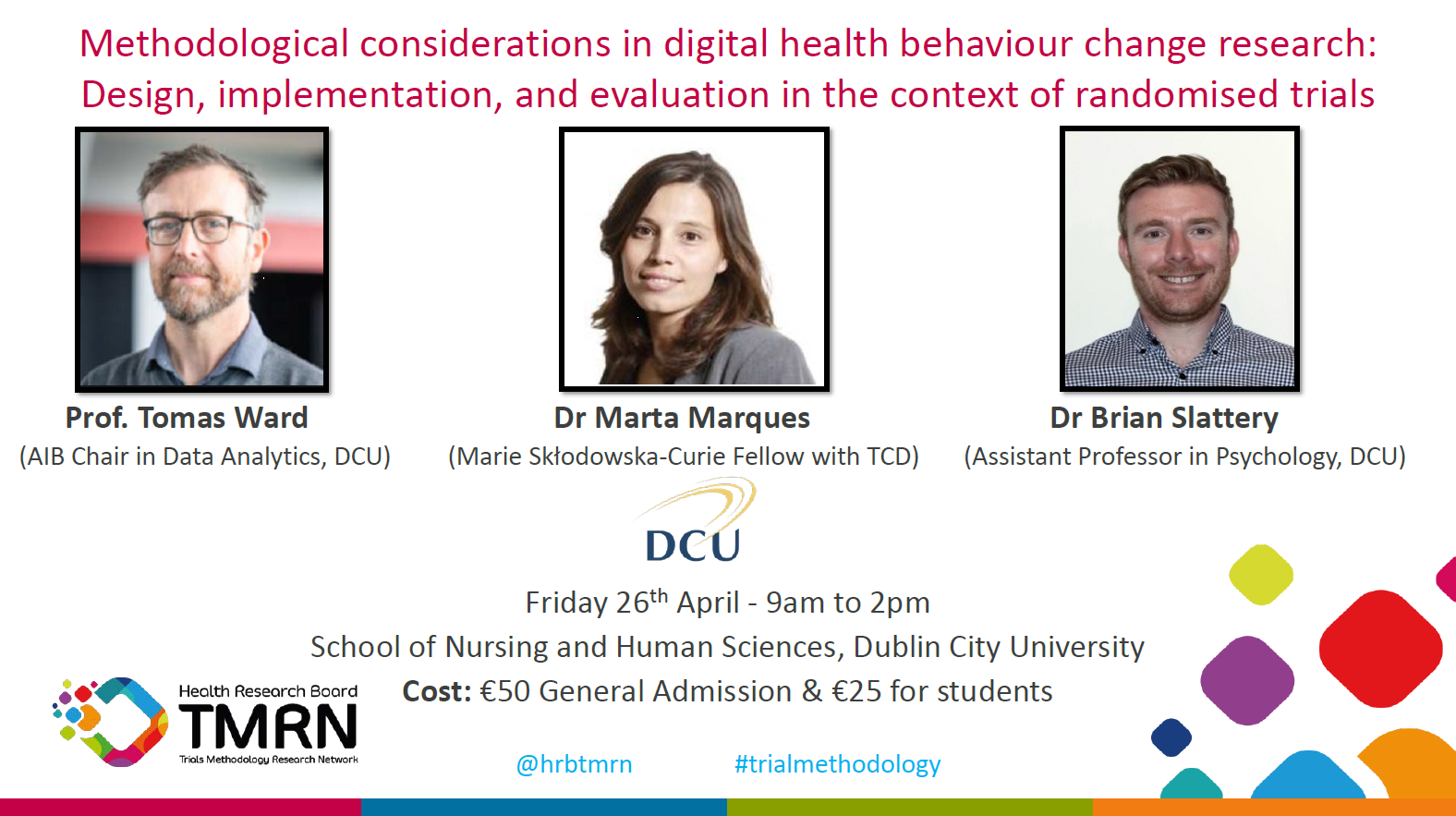 Target audience
This event will be of interest to researchers, healthcare practitioners, health organization representatives and technologists currently conducting or considering a digital behaviour change intervention.
Timetable of Conference / Event
The provisional timetable is as follows:
9.30am- 10.00am Registration
10:00am-10.05am Welcome address
10.05am-11.15am Dr Marta Marques
11.15am-11.25am Break
11.25am-12.15pm Professor Tomas Ward
12.15pm-12.25pm Break
12.25pm-1.30pm Short presentations:
12.25pm-12.40pm Darragh McCashin
12.40pm-12.55pm Kathleen Ryan
12.55pm- 1.10pm Brian Slattery
1.10pm- 1.30pm Panel discussion
1.30pm-2.30pm Lunch and networking
2.30pm Event close
Titles of Talks:
1. Dr Marta Marques (TCD): 'Practical advice for developing a digital behaviour change intervention: Notes from current theory and practice'
2. Professor Tomás Ward (DCU): 'Digital Technologies for Ecological Momentary Assessments and Interventions: Practice and Possibilities '
3. Ms Kathleen Ryan (UCC): ''Reflections from taking a person-centred approach to the design and evaluation of an eHealth weight loss intervention'
4. Mr Darragh McCashin (UCD): Technology-assisted cognitive behavioural therapy for children in primary care - RCT design considerations for Pesky gNATs
5. Dr Brian Slattery (DCU): Conceptualising and measuring engagement: Issues and considerations when conducting a digital health intervention