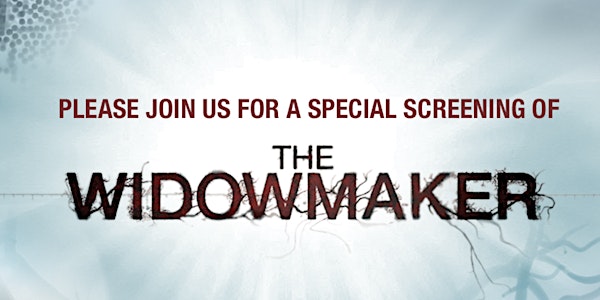 When and where
Location
The Larkin Lecture Theatre ddd Dublin Ireland
Description
and chaired by Ivor
Come along to a FREE screening of The WidowMaker (2015) organised by Alan Crean of DCU. Room capacity is a healthy 450, so be sure to spread the message through social media!
Present will be the film's funder David Bobbett, acclaimed entrepreneur and CEO of one of Ireland's largest corporations. Biochemical engineer and independent researcher Ivor Cummins will deliver a short introduction on the primary root causes of cardiovascular disease.
Following the movie (approx. 1 hour in duration), we will have a Q&A session to address questions that may arise. Chaired by Ivor, the panel will include David and the following content experts:
* Professor Sherif Sultan (Cardiologist, Professor of Vascular & Endovascular Surgery, National University of Ireland) https://ie.linkedin.com/in/profsherifsultan
* Dr. Ross Murphy (Cardiologist, Blackrock Clinic, Dublin) http://www.blackrock-clinic.ie/consultant/murphy-dr-ross/
BY VIDEO LINK FROM USA: * Dr. Jeffry Gerber, MD, FAAFP (Medical Doctor, Specialist in Cardiovascular/Diabetes/Obesity Prevention). http://denversdietdoctor.com/about-dr-jeffry-gerber-md/
* Dr.Gearóid Ó Laoi, Retd: FRCPI, FFpathRCI, FRCPath. (Mercy Hospital Cork)
* Graham Byrne (Health & Fitness Manager, DCU Sport and High Performance Fitness Coach at Dundalk FC) https://ie.linkedin.com/in/grahambyrne10
* Maev Creaven (Functional Medicine Nutritionist, BE, Dip NT, mNTOI, mIFM) http://www.nutritioncentre.ie/en/about-us/
Cardiovascular disease is the world's biggest killer - but for most it is a preventable disease. For decades we have focussed on 'cholesterol', while more important drivers were sadly neglected. We have focussed on 'risk factors', while a test that sees the disease process itself was underused. The following post-movie discussion with Lindsay Woods and Dr. William Blanchet gives an overview: http://tuesdaytalkshow.podomatic.com/entry/2015-06-10T13_25_04-07_00
At this free event you be empowered to target your cardiovascular risk effectively. Just like David Bobbett achieved: https://www.youtube.com/watch?v=8O10829ux0I
Film Synopsis:
"More than 700,000 Americans die of heart disease each year. For many of them, death is the first symptom of the disease. A simple heart scan could save many of these lives, but THE WIDOWMAKER reveals that a hidden battle fought inside America's medical establishment has pitted prevention against intervention keeping scans in the shadows while cardiac surgeries soar. Featuring cardiologists, heart attack survivors and lawmakers, THE WIDOWMAKER will change the way you think about heart disease and it just might save your life."
http://widowmakerthemovie.com/