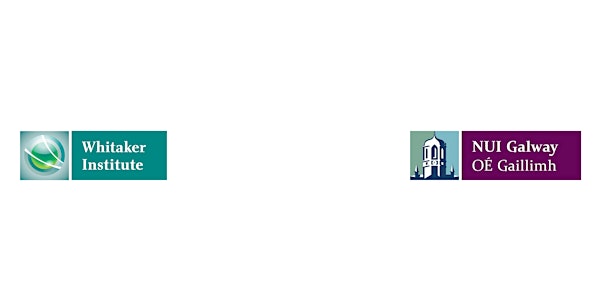 Debating Brexit
When and where
Location
Aula Maxima, The Quadrangle NUI Galway University rd Galway Ireland
Description
NUI Galway is delighted to announce that it will host, in association with the British Embassy in Ireland, a public event on Britain's EU Referendum on Wednesday, 18th May. The event begins at 2.00pm and a light lunch will be provided beforehand.
The UK is facing a momentous decision on 23 June on whether to remain in or leave the EU. Not surprisingly, the 'Brexit' debate is being followed with particular interest in Ireland – the only EU country with which the UK shares a land border.
This public event will bring together a distinguished panel to debate the economic and political implications of Brexit on both the UK and Ireland. The panelists include: Dan O'Brien (Institute of International and European Affairs), David Begg (TASC), Noelle O'Connell (European Movement Ireland), Mairéad McGuinness (MEP), John McHale (NUI Galway) and Conall MacCoille (Davy) and a senior UK government speaker. MC for the event will be TG4 news anchor Eimear Ni Chonaola.
This event is hosted by NUI Galway in association with British Embassy in Ireland. The event is also a collaboration with European Movement Ireland's national conversation.

About the Moderator
Eimear Ní Chonaola is the main news anchor with Nuacht TG4/RTÉ and presents the 7pm evening news bulletin. Eimear is from An Spidéal in Co. Galway. A native Irish speaker, she graduated from National University of Ireland, Galway, with a BA International Degree in Irish and German.
She chaired the first ever election debate in Irish on 16 February 2011, when she hosted one of the official debates of the 2011 General Election. The debate was a big ratings win for TG4, with around 600,000 people watching live, and her performance as chairperson of the three-way discussion between Enda Kenny, Eamon Gilmore and Micheál Martin was widely credited in the national press. Eimear won two Oireachtas Awards as a result.
As well as her extensive experience in reporting at home, she has also reported from Niger, Malawi, Cuba, Rome and from the US. Just this year, she co-presented an extended bulletin from London on the United Kingdom General Election in May, and she has recently returned from Greece, where she covered the Greek elections. She also reported on the migrant story from the Greek Macedonian border.
About the Panelists
John McHale is Established Professor and Director of the Whitaker Institute at the National University of Ireland, Galway. He has served as Chairman of the Irish Fiscal Advisory Council since July 2011. Before joining NUI Galway he held positions at Harvard University and Queen's University, Ontario. Professor McHale has been a consultant to the World Bank on various migration and development projects. He is currently President of the Irish Economics Association, an associate editor of the Economic and Social Review and a member of the National Economic and Social Council.
Mairéad McGuinness, Fine Gael MEP for Midlands, North-West, is Vice-President of the European Parliament and serves on the European Parliament's Agriculture and Rural Development Committee and the Committee on the Environment, Public Health and Food Safety. As Vice-President she chairs sessions of Parliament and oversees the Parliament's Communications. She also has responsibilities for the Parliament's scientific research body STOA and she plays a leading role in the area of children's rights as a Mediator in cases of international parental child abduction on behalf of the European Parliament.
Dan O'Brien is Chief Economist at the Institute of International and European Affairs, one of Ireland's leading think tanks. He is Adjunct Senior Research Fellow at the School of Politics & International Relations at UCD and a columnist and economics analyst for the Independent Newspaper group. He was Economics Editor of The Irish Times from mid-2010 and prior to that spent over 10 years, as senior economist and editor at the Economist Intelligence Unit. Dan has also worked for the European Commission and as a consultant for the United Nations and Forfas.
David Begg is Director of TASC, a Think tank. He is also Chairman of The Pensions Authority. He was formerly General Secretary of ICTU and spent five years as CEO of Concern Worldwide in the late 1990s. Over the years he has held a variety of non-executive positions including The Board of Aer Lingus, The Central Bank and The National Economic and Social Council (NESC). He was a Governor of The Irish Times Trust from 2001 to 2011 and is currently Chairman of Barnardos. He holds a masters degree in International Relations from DCU and a PhD in Sociology from NUI Maynooth. His Book comparing Ireland with other small open economies in Europe was published recently by Palgrave MacMillan.
Noelle O'Connell was appointed Executive Director of European Movement Ireland in April 2011, Ireland's longest established NGO dealing with Irish – EU relations. Prior to leading European Movement Ireland, Noelle provided business development training, education and public affairs consultancy to a wide variety of both private and public sector clients including the HEA, Irish Research Councils and the Institutes of Technology. She held management consultancy positions in Accenture; headed up the Training, Education and Development function of the Construction Industry Federation, and was formerly a Director on the Board of Skillnets. Holding an MSc in International & European Politics from the University of Edinburgh and a BA Hons in European Studies and Languages from UCC, Noelle is a Fellow of the Irish Institute of Training and Development, a member of the CIPD, the Institute of Directors of Ireland, and is also a member of the Board of Alliance Française Ireland.
Conall Mac Coille, Chief economist with Davy Research. Conall received his BA and MA in Economics from University College Dublin. He joined Davy as Chief economist in 2010. Previous to that, he worked for eight years as a monetary policy advisor and senior economist at the Bank of England. He has also worked at the Economic and Social Research Institute, Dublin and as a lecturer at the Dublin Institute of Technology. Conall provides expert commentary on the Irish economy, the UK economy and the Global economy. Davy's analysis of the implications of Brexit for the UK is available here; its analysis of its implications for Ireland is available here.