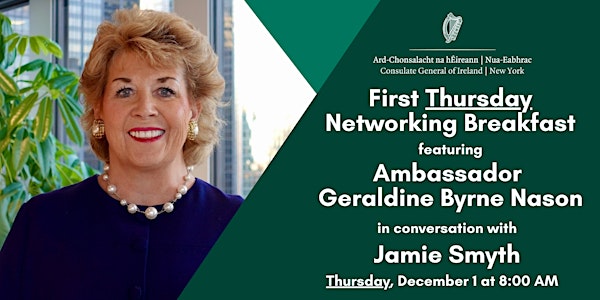 December First Thursday Networking Breakfast
Join us on Thursday, 1 December at 8:00 am to reconnect with the Irish community and catch up with the latest cultural and business news.
When and where
Location
Consulate General of Ireland 345 Park Avenue ## 17 New York, NY 10154
About this event
FIRST THURSDAY NETWORKING BREAKFAST
Thursday, 1 December 2022
We are delighted to welcome you back to the Consulate General of Ireland on December 1st for a First Thursday Networking Breakfast–in lieu of our usual First Friday–introducing Geraldine Byrne Nason, Ireland's new Ambassador to the United States, in conversation with Jamie Smyth of the Financial Times.
Ambassador Byrne Nason assumed her role as Ireland's 19th Ambassador to the United States in August 2022, after five years as Ambassador and Permanent Representative of Ireland to the United Nations, during Ireland's term serving on the Security Council.
Previously, she served as Ambassador to France (2014-17), Second Secretary General in the Department of the Taoiseach (2011-14), Ambassador and Ireland's Deputy Permanent Representative to the EU (2005-11), and Director of the National Forum on Europe (2004-05).
Ambassador Byrne Nason will discuss her career to date and her priorities as Ambassador, including working with the vibrant and vital Irish-American community, enhancing Ireland-U.S. economic ties, and working with American partners to protect the Good Friday Agreement and consolidate the great progress made since the historic events in April 1998.
A native of County Louth, in 2020 Ambassador Byrne Nason was awarded the Freedom of Drogheda, the town's highest honour and was the third-ever woman to receive the award. In 2014, the Ambassador was elected a Member of the Royal Irish Academy, Ireland's highest academic honour. Ambassador Byrne Nason holds an Honorary Doctorate of Law from Maynooth University as well as Master's and Bachelor's degrees in Literature from Saint Patrick's College in Maynooth (NUIM).
Jamie Smyth is a journalist who has covered business, finance, politics, technology and a host of other topics while working at the Financial Times, Irish Times and several other media organisations. He is currently the U.S. Pharmaceuticals Correspondent for the Financial Times.
The breakfast will provide an opportunity to meet our new Ambassador and Jamie, catch the latest New York community news, and chat with old friends and new.
Places are limited, so please register here to get your free ticket.