Description
The Irish Cancer Society's latest 'Decoding Cancer' public talk focuses on the important role of science and research in improving outcomes for people with cancer. A panel of experts will address topics such as
Cancer research from the patient's perspective
What exactly is science and research anyway, and why do we need it?
Why should I believe what scientists/doctors say? I know my own body so I know best.
Why is there no cure for cancer?
This event is part of the 'Science Week Ireland' schedule of events (11-18 November).
There is increased scepticism in science and 'experts' at the moment. Proven scientific facts are being disputed, and there is an increase in fake news and misinformation around cancer.
This public talk aims to acknowledge and address people's questions and concerns about what research is, and to explain the effect scientific research has on the lives of people with cancer.

The panel of speakers will include cancer research experts, an oncologist and a patient advocate.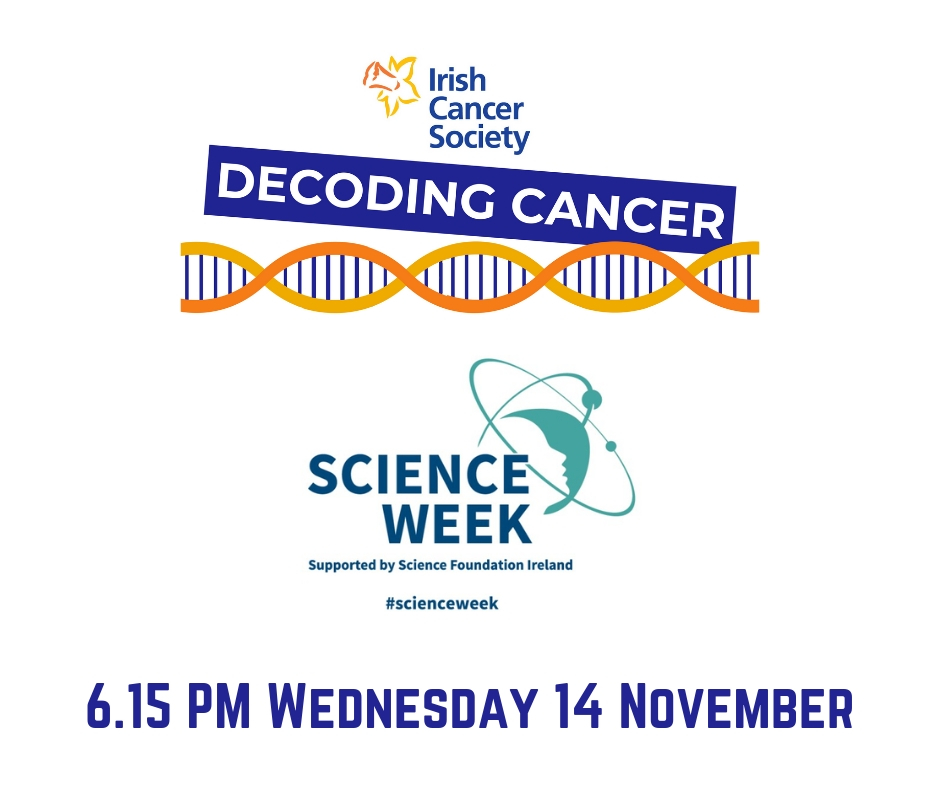 Decoding Cancer enables leading cancer experts to speak to the public in layman's terms about topics and issues around cancer and cancer research. These talks are for everyone – from cancer patients and their families, to any member of the public with an interest in cancer and cancer research.

The talk is free and open to everyone. If you would like to attend please register on Eventbrite.

Follow the conversation on social media #DecodingCancer #BelieveInScience #ScienceWeek


IMPORTANT NOTICE
Please be informed that there will be photographs and filming taking place at this event. This content will be used after the event by Irish Cancer Society for the purpose of internal and external communications. Irish Cancer Society will not sell the images to any third party. The images will be stored for 7 years. If you have any questions please contact the event organiser at: zholmes@irishcancer.ie