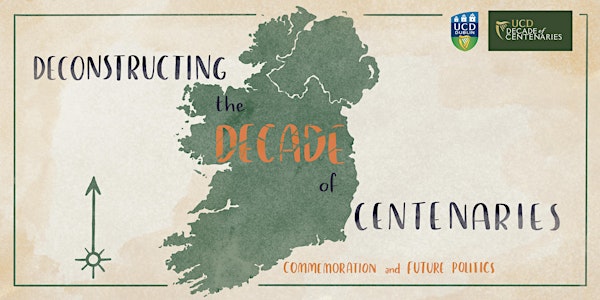 Deconstructing the Decade of Centenaries: Commemoration and Future Politics
A hybrid, interdisciplinary workshop critically interrogating the politics of Ireland's 'Decade of Centenaries'
About this event
Deconstructing the Decade of Centenaries: Commemoration and Future Politics
18 May 2022, 09:40 - 17:00
In 2023, the so-called Decade of Centenaries will come, finally, to an end. Since the Decade began, politics, economy and culture on the island Ireland have undergone a series of overlapping and seismic changes. Referendums on marriage equality and abortion, Brexit, a global pandemic, the end of 'Civil War' electoral politics and renewed debate about constitutional change across 'these islands' represent just some of the era-defining events and trends that have transformed Irish politics and culture since 2012.
As the Decade reaches its conclusion, the time is ripe to assess how its politics of memory have interacted with the other political dynamics that have functioned to reshape Ireland and its place in the world over the past ten years.
This one-day hybrid workshop brings together an interdisciplinary group of scholars in Ireland and beyond to interrogate the political and cultural impact of the Decade of Centenaries, and how it has been shaped by and played a role in shaping wider processes of social change.
Deconstructing the Decade of Centenaries: Commemoration and Future Politics is supported by the UCD Decade of Centenaries Internal Award Scheme.
**You can register via this Eventbrite page to attend the workshop virtually. There are a very small number of tickets available to attend the event 'in person' at UCD. Please email jonathan.evershed@ucdconnect.ie for further information if you would like to do so.**
09:40 - 10:00
Opening Remarks
Rebecca Graff-McRae (University of Alberta) and Jonathan Evershed (University College Dublin)
10:00 - 11:30
Commemoration, citizenship and the politics of 'maturity'
Laura McAtackney (Aarhus University)
Dominic Bryan (Queen's University Belfast)
Eoin Daly (NUI Galway)
Siobhán Doyle (National Museum of Ireland and TU Dublin)
11:30 - 11:45
BREAK
11:45 - 13:00
The politics of 'reconciliation', and the Decade in international context
Catriona Pennell (University of Exeter)
Margaret O'Callaghan (Queen's University Belfast)
Dónal Hassett (University College Cork)
13:00 - 14:00
LUNCH
14:00 - 15:15
Silence, omission and 'the archive'
Caelainn Hogan (Journalist and Author)
Síobhra Aiken (Queen's University Belfast)
Stephen O'Neill (IMMA and Trinity College Dublin)
15:15-15:30
BREAK
15:30 - 16:45
Borders, bordering and the Trouble(s) with 'the past'
Peter Leary (Oxford Brookes University)
Matthew Gault (Queen's University Belfast)
Lisa Claire Whitten (Queen's University Belfast)
16:45 - 17:00
Concluding Remarks
Jonathan Evershed and Rebecca Graff-McRae