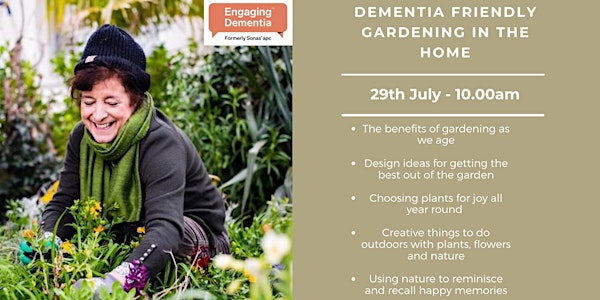 Dementia friendly gardening in the home
Turn your garden into an accessible space for people with dementia and involve them in stimulating dementia-friendly gardening activities.
About this event
Gardening is an excellent way to keep people living with dementia engaged and physically active, and for them to spend more time outdoors.
The benefits of gardening are very well known and they don't involve only our physical health, but also our mental health. Gardening provides particular gratification to people living with dementia as it makes them feel helpful, valued and stimulated. Gardening activities, whether we are talking about a big back garden or a few pots of flowers in the house, stimulate vision, touch, smell and sound, as plants attract birds and other forms of life.
If you are living at home with somebody who has dementia, this one- hour workshop will teach you how to turn your garden into a safe and accessible space for your loved ones, and how to involve them in fun and stimulating dementia-friendly gardening activities.
In this session you will learn:
1. The benefits of gardening and outdoor spaces as we age
2. Design ideas for getting the best out of the garden
3. Choosing plants for joy all year round
4. Creative things to do outdoors with plants, flowers and nature
5. Using nature to reminisce and recall happy memories
This workshop is presented by Joyce Fitzpatrick. Joyce qualified in Social and Therapeutic Horticulture in Coventry University. She set up garden spaces and activities for hundreds of older people resident in nursing homes in Ireland.