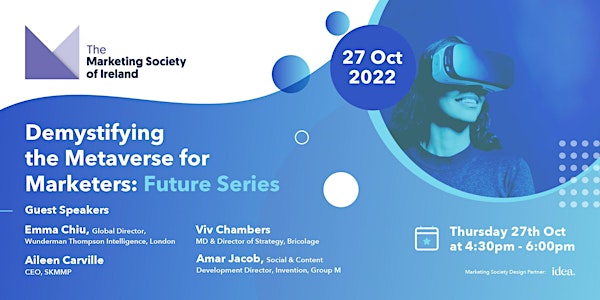 Demystifying the Metaverse for Marketers
FUTURE SERIES
When and where
Location
Bord Bia - Irish Food Board (Dublin) 140 Pembroke Road D04 NV34 Dublin 4 Ireland
About this event
AdWorld this week, quoting the Oliver Marketing Pulse survey noted that "when it came to the Metaverse and Web3, over 7 in 10 Irish marketers say they are not confident about marketing in the metaverse and that they have no strategy to enter it." We are here to help, with a mix of Insight and Inspiration from an exceptional panel of speakers.
First up, we are delighted to welcome Emma Chiu, Global Director at Wunderman Thompson Intelligence based in London who will share Insights from the "Into the Metaverse" report, authored by Emma. Wunderman Thompson is the first agency to explore this new paradigm and make the case for brands being a part of it.
Then we will hear from the queen of fashion In the Metaverse, Aileen Carville CEO of SKMMP who will share her Inspiring story of how SKMMP have created a Metaverse based business that has been turning heads at London and Paris fashion weeks.
Amar Jacob will talk about how the Metaverse can work for an Iconic local brand; Brennan's bread. We will also have Viv Chambers of Bricolage with us to share a consumer's perspective on NFTs.
A recent survey shows that more than 70% of Irish marketers have no strategy in place to attract new clients through the mixed reality universe; don't be one of them! To get on top of the next evolution of digital, from digital possessions and NFTs to travel portation and new digital societies, please join us for a lively discussion with Emma, Aileen, Viv and Amar on 27th October.
Speaker and panellists:
• Emma Chiu, Global Director at Wunderman Thompson Intelligence, London
• Aileen Carville, CEO, SKMMP
• Viv Chambers. MD & Director of Strategy, Bricolage
• Amar Jacob, Social & Content Development Director, Invention, Group M