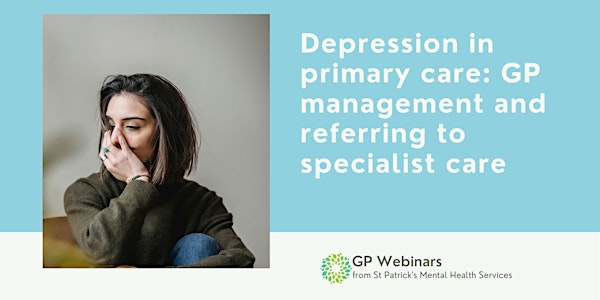 Depression in primary care: GP management and referring to specialist care
St Patrick's Mental Health Services (SPMHS) invites GPs and healthcare professionals to a free webinar on depression.
About this event
Depression is the most common form of mental health concerns, according to the World Health Organisation , and is believed to affect over 300 million people across the world.
On Tuesday, 18 October, between 7.30pm to 8.30pm, SPMHS will hold a webinar for GPs on how to support their patients dealing with depression.
The webinar will be led by Sean Lonergan, Cognitive Behavioural Therapist at SPMHS, and will cover topics including:
• recognising the symptoms of depression in primary care
• the differences between depression and other mental health difficulties
• diagnoses
• risk factors
• how to support patients
• referrals to specialist care
This webinar is recognised for one Continuing Professional Development (CPD) point from the Irish College of General Practitioners (ICGP). Please note that CPD points are only available to those who attend the live webinar.
GPs can submit their questions in advance by emailing communications@stpatsmail.com or during the webinar using the Q&A function on Zoom.
If you are registering for this event and have any accessibility requirements for attending, please email communications@stpatsmail.com.