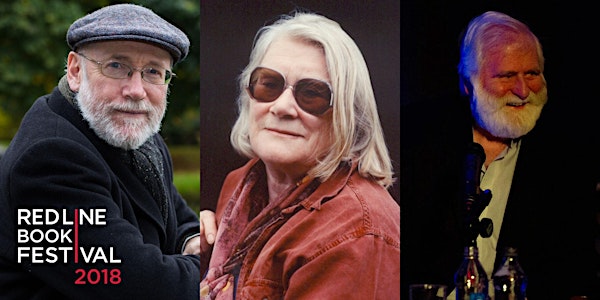 Dermot Bolger in Conversation with Jennifer Johnston & John Sheahan
When and where
Location
Pearse Museum Grange Road D16 Y7Y5 Rathfarnham Ireland
Description
One of Ireland's best known writers, Dermot Bolger's fourteenth novel, An Ark of Light, is being published in Sept 2018. His relaxed and intimate conversations with leading Irish writers and figures in the arts – through the Reader's Day, which he curated for fifteen readers – have grown into an integral part of Red Line Book Festival, allowing audiences a rare insight into their work and the life experiences which have shaped them as individuals.
In a new format this year, Bolger hosts an extra-special pre-festival event, bringing together two Dublin legends who, for decades, have been virtuosos of their chosen art form. In this special once off event he will be inconversation firstly with the great Jennifer Johnston: one of the foremost Irish writers of her time. Born in Dublin in 1930, Johnston's acclaimed novels have won the Whitbread Prize, the Evening Standard Best First Novel Award, the Yorkshire Post Award and she has been shortlisted for the Booker. Rich in dialogue – as befits someone who is also a gifted playwright – Johnston's novels deal with political and cultural tensions in Ireland and often focus on family relationships and the difficult transition from childhood to adulthood. The daughter of the distinguished playwright, Denis Johnston and the famous Abbey actress, Shelah Richards, she will read from her work and talk about her writing life since her first book, The Captains and the Kings, appeared in 1972.
She will be followed in conversation by the legendary musician John Sheahan. Famous as a violinist, tin whistle player and folk musician, John Sheahan is the last surviving member of the original and definitive five man line-up of that world famous band, The Dubliners. But he is also a composer in his own right of such classics as The Marino Waltz and in recent years acquired a considerable reputation as a poet, enhanced by the recent appearance of his debut collection of poems, Fiddle Dreams, which was published in his 76th year. In a public conversation with Dermot Bolger he will read from his poetry, reminisce about the famous friends and musicians with whom he embarked on a life-long journey through music and play some of his most beloved tunes.
This event will be a unique and unmissable celebration of words, music and reminisces of times past.