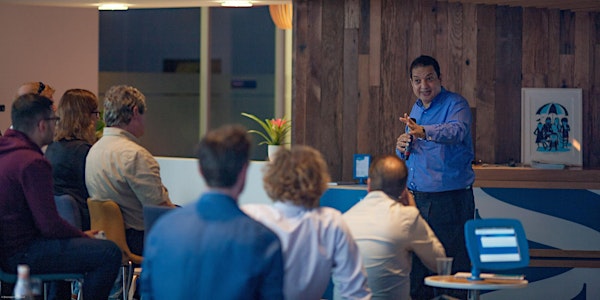 Design for Persuasion, The Science of Persuasion, Influence & Habit Change
When and where
Location
The Fitzwilliam Hotel Dublin 127/128 Saint Stephen's Green Dublin 2 Ireland
Refund Policy
Refunds up to 30 days before event
Description
Everyone is in the business of Persuasion.
We are all trying convince, persuade or influence other people.
Following our very successful Introduction to Persuasive Design at Dogpatch labs and due to popular demand we are running the first Public* full day masterclass workshop in Ireland.
This workshop teaches you the "real world" strategies we use with clients in their organisations.
Book your ticket now as places are limited and will go on a first come first served basis.
The Science of Persuasion is about using techniques learnt from Behaviour Science/Behaviour Economics, NeuroScience, Psychology, Cognitive Behaviour, Nudges etc to Design the Total Experience from Product Design, Pricing, Marketing and the Sales Process in a coherent and consistent manner.
We will take you though some of these patterns, principles and techniques used by some of the most successful companies and show you how you can apply these.
---
Why you should attend this workshop?
Designing for Persuasion is about "baking in" the persuasion process into your business design, product/service and processes at the onset.
If you are an online (or offline) business discover the techniques you can use to
increase conversion,

retention,

frequency of transactions,

transaction value per sale,

lifetime value and stickiness of your business..
Discover the secrets of successful organisations and make your own playbook.
These techniques can be applied to existing businesses or startups.
This intensive masterclass is focused on Online Businesses and will also cover a whole host of persuasion techniques used by the whole range of organisations from Restaurants, Films, Retail, Charities and Governments.
For example think about how Dunnes Store use the €10 euro voucher for ever €50 euro you spend but you must come back in next 7 days.
Why Amazon use Dash, Alexa and Prime are critical to Amazon's success ?
It is aimed at CEO/Entrepreneurs, Marketing & Sales Professionals, Cognitive/Behaviour/Experience Designers and Change Professionals who need to persuade users to join, buy, or change user behaviour.
You will uncover the techniques that companies such as Amazon, (Facebook, Google, Linkedin, online gaming/gambling companies, travel sites such as Booking.com and sticky apps such as Uber etc) have baked into their business model such as
Anchoring
Framing
1-click,
curiosity,
social proof,
referrals, price comparison,
triggers, and many many more.
Find out how these techniques affect the dopamine, serotonin and other brain hormones and how to trigger behaviours and habits.
Find out how to use psychology, behaviour science & neuroscience to interest & engage users, drive them through the "persuasion process" to change behaviour and make them click, act or buy.
Understand how to design your user experience & sales process to be more persuasive, it goes beyond just functionality, usability, aesthetics and presentation and can be applied by practically any organisation.
We will also cover some of the Dark Patterns used by organisations to stop people from cancelling etc.
---
Who is this for ?
CEO's looking to transform their existing businesses.
Entrepreneurs

who want their online business to take off and exceed their competitors performance.

Marketers

looking to improve the entire sales funnel by adopting a persuasive "mind of the customer" user-centric approach

UX designers

who want to improve the conversion rate of e-commerce sites or build membership by creating a persuasive experience.

Project managers interested in building online businesses and that engage users
Software engineers

who want to incorporate the "soft skills" into their projects by using psychology, behaviour science, neuroscience, sociability, and design

Newcomers to design

who are looking to broaden their knowledge

Anyone

who wants to set up his/her own online business, product, or service
---
What will you learn?
At the workshop you will learn about the leading techniques in Psychology, Behaviour Science, Marketing, Neuroscience by Nobel Prize Winners such as Kahneman (Thinking fast, Thinking Slow), Amos, Thaler (Nudge) , Schelling, Cialdani, Ariely, Levine, Weinschenk, Fogg, Eyal and numerous others.
We will show how companies such as Netflix, Amazon, Facebook, Linkedin, Google, Microsoft etc have built their business model around these principles to build successful, profitable and sustainable business models.
---
Format.
Places are limited as we want to keep class size to be small enough to make this a deep learning experience.
We would encourage you to bring your team so that you can ensure consistent & rapid implementation of these techniques in your business and company culture.
The aim is to be practical and hands-on. During the event you will get a chance to apply these techniques to an actual business.
* Please note that this is an at a special introductory price so at a special reduced rate.
Lunch and refreshments will be provided.
---
Testimonials
"I had the pleasure of attending Manoj's talk at DCU on Startups….. He is articulate, easy to listen to. It is rare for someone to give such actionable advice"
Aran Joyce: Digital Marketing Consultant ICO Advisor.
---
"I have been fortunate enough to attend a few of Manoj's talks, events and workshops.
His style is interactive, engaging and fun.
His talk on "Persuasive Design" is a good example. He had the audience very engaged, laughing and excited with his "Moo" triggers.
He is knowledgeable, experienced and brings a wealth of practical know-how.
He demonstrated some fantastic techniques. His events are almost always full.
He creates an "Aha" moment in every event. The audience always gets some very useful actionable takeaways.
If you have the chance to attend one of his talks, take it and go.
An event not to be missed.
If you are organising an event, make sure to include him on your list of speakers. His talks are always very interesting.
Jean Jose Garcia Molina: Owens & Minor Global Services
---
"I recommend Manoj for his soft skills especially when it comes to explain technology and product architecture to beginners…… he delivered to an audience of startup and corporate people, everybody really enjoyed the full day course."
Kevin Loaec: Managing Director Chainsmiths
---
About the Speaker.
Manoj Chawla MA ACMA FRSA.
Manoj graduated from Trinity College and is a Fellow of the Royal Society of Arts. (https://www.thersa.org/).
He has held senior and "C" level positions in companies such as ICI, Diageo, PWC, Accenture where he has held positions such as Chief Information Architect: VP Service Evolution, GM Business Transformation & Innovation, BD Director, Partnership & Innovation.
He has built partnerships with companies such as Microsoft, HP, Oracle, IBM and for clients such as Marks and Spencer, GE, British Gas and been responsible for building some of the most successful ventures and projects in those companies and their clients.
At BT he was awarded the largest prize ever given for his "New Idea"
Startups have included the world's first zero touch telco, the first online estate agency, online clinical trials and building once of the fastest growing student social networks.
About the Venue
The Fiztwilliam Hotel is one of Dublin's leading 5 star hotels. Located at St Stephen's Green right by the Luas stop at the top of Grafton Street and adajacent to St Stephen Green's Shopping Centre. Paid Parking is available at the Shopping Centre/Back of the Hotel.
http://www.fitzwilliamhoteldublin.com/
---
FAQs
Can I update my registration information?
Yes
Is my registration fee or ticket transferrable?
No
Is it ok if the name on my ticket or registration doesn't match the person who attends?
No
Are there ID or minimum age requirements to enter the event?
18 Years Plus.
What are my transport/parking options for getting to and from the event?
Paid Parking is avaiable at St Stephen's Green Shopping Centre.
The venue is right opposite the Luas Stop
What can I bring into the event?
We would suggest you bring a notebook and pen paper to make your own notes.
Paper and Pencil is always the best way to make notes.
How can I contact the organiser with any questions?
you can contact the organiser on manoj@jumpstart.design
What's the refund policy?
100% refund is available if you cancel 30 days before.
---
Other T&Cs


Please take a few moments to read all the following information carefully:

1. We recommend you arrive and take your seat at least 10 minutes in advance of the advertised start time as we aim to start and end on time.
Come early and network with the other participants.

2. We will have your name on the door but we suggest you keep bring your eventbrite booking to speed up the check-in process..

3. We film, photograph and (sometimes) live-stream most of our events. By attending this event you accept that you may appear in our photo/video as a member of the audience and by booking you are accepting our terms.

4. If you need help with access please let us know as soon as possible. We generally pick locations that are access friendly.