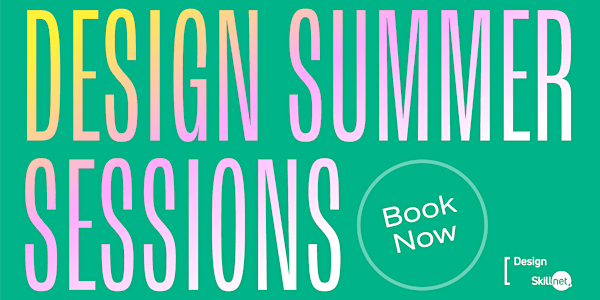 Design Summer Sessions
The Design Summer Sessions is a half-week programme of learning and creativity, with interactive workshops, forums and webinar sessions
About this event
The Design Summer Sessions is a half-week programme of learning and creativity, with interactive workshops, forums and webinar sessions for creative minds to:
Re-energise, connect and share with each other
Reboot their creative thinking, practice and business skills
Explore the different areas and fields of design
Hear from leading Irish and international designers and subject-matter experts in a range of matters relating to design.
It will provide designers from diverse backgrounds and at various stages of their careers with the opportunity to get inspired, upskill or learn about the latest design trends, programmes and initiatives and build industry connections.
SHARE & LEARN Sessions
Learn from multidisciplinary Designers, peers and subject matter experts who will share their skills and tips in these insightful and interactive Share & Learn sessions:
Workshops
Food for Thought Talks
CREATIVE CONNECT: Connecting the Design Community
Connect with fellow designers who will share their professional tips, spark discussions around common design challenges and brainstorm problem-solving solutions to enhance your creative and business skills and shape the Future of the Industry.
Creative Circles
DesignOpp Creative Creatures | Wed 17th 5-6pm Grace Enemaku, Ashwin Chacko & Holly Pereira on Diversity in the Design Sector and their creative journeys.
Peer Peeks
Take a peek at some of your Design Peers. Leading creative minds share their professional stories and pieces of advice.
Get to Grips with the Design World
Delve into the world of different Design disciplines with these leading designers:
Get to Grips with Brand Design - David Wall, McCann Dublin
Get to Grips with Service Design - John Lynch, Context Studio
Get to Grips with Industrial Design - Dominic Southgate, boxclever
Get to Grips with UX Design - Brian Herron, Each&Other
Sessions times:
Get to Grips with Design session 1 (Brand, UX, and Industrial Design) Thurs 18th 6pm-6:30pm
Get to Grips with Design session 2 (Service Design) Thurs 18th 6:30pm-7pm
Pricing - Design Summer Sessions 2022
Members (IDI, ICAD, IAPI, 100 Archive)
All events except the No Not Like That lettering workshop are complimentary as part of your membership
Non-Members
Per Event: €15 per event
Individual Access All: €95 (access all events except the Lettering workshop)
Team Access All: €250 (for 3 people or more; access all events except the Lettering workshop). Please note team members must use their work email address when registering for events (so that we can ensure they are part of your team).
No Not Like That
Members €105
Non-Members €160